Morning, gang! Not gonna lie, that was a bit of a ridiculous weekend: concerts from OMD and Nick Cave, catching Wrestlemania with some old friends (and all the macho braggadocio which goes along with that), topped off with spinning sets at my regular residency Sanctuary. Looking forward to early nights with a bit more kip for the rest of the week. Also, because he's a mensch, Alex picked me up some Cure, Swans, Kirlian Camera, and Rosetta Stone rarities while crate digging in Italia. Thanks, pal! Let's get the week rolling…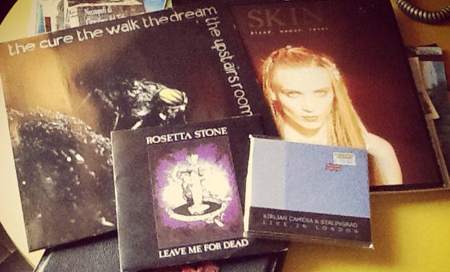 Noblesse Oblige, "Runaway"
It feels like it's been longer than three years since London-Berlin's Noblesse Oblige released Malady, an elegant crepuscular mix of acoustic dreaminess and minimal electronics. Aided by a glitzy Chris Corner video, this storming number incorporates some of the high-drama synth stuff that's been sweeping clubs in the past couple of years (with a hint of Visage) into Sebastian Philipp and Valerie Renay's suave template. Can imagine this sounding all kinds of tasty in clubs. The "Runaway" single is out in a couple of weeks in anticipation of full-length Affair Of The Heart's May 24th release.

Solvent feat Adam Killing, "Red And Metal"
Our pals at Complete Control Productions have just dropped a 24-track comp, and it's a doozy. Inside The Volcano features all of the talent native to the label we've come to love (Severe Illuison, The Pain Machinery, Guilt Trip, Agent Side Grinder, Severe Illusion) plus a mess of names we'd never have expected. //TENSE//, The Horrorist, Thomas Heckmann, and even Canada's own analogue synth-fetishist Solvent all crop up!

Valerie Gentle, "Erase"
Journeywoman Valerie Gentle has played guitar for The Cruxshadows, Angelspit, and Black Tape For A Blue Girl before now embarking on a solo tip. The first result shows a nice assemblage of chiller gothy elements which might not be out of place on a release from the latter act, but builds to a livelier chorus than might be expected from Herr Rosenthal. Nice stuff. There's also also a Kickstarter for a debut EP.

Kontravoid, "Impurities"
More mid-tempo, atmospheric fun from Cameron Findlay. Alex was all about the project's debut last year, and the subtle weaving of layers through the fog which charts this track's course shows why.

Textbeak, "Gatchaman (Strange Powers Remix)"
Built around a Talking Heads sample, the latest from Cleveland oddball producer Textbeak sashays into some nice chill-out territory, but I'm especially digging this downright mean mix from Strange Powers, which adds a punishing but simple old-style EBM lead.