End to End is our track-by-track take on non-album and compilation releases, in which we try to give thumbnail first impressions of each song and point to particular numbers to be cherry-picked via the consumer's online retailer of choice. This time it's the swift and surprising reemergence of one of the progenitors of our beloved SwEBM…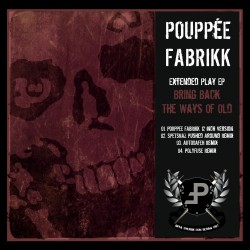 Pouppée Fabrikk
Bring Back The Ways Of Old
Alfa-Matrix
Between last week's discussions of new records by The Klinik, Pankow and Leæther Strip, you could be forgiven for thinking that we were intentionally going on an old-school kick here at ID:UD. It's mere happenstance, I assure you, but I couldn't help but keep that slate of releases from old masters in mind as I listened to the new single from the only just reformed Pouppée Fabrikk. There were rumblings of the group's return when I gave a listen to frontman Henrik "Nordvargr" Björkk's Nexus Kenosis record, but the speed with which PE dropped this single, not to mention the direct nature of its subject matter, still feels like a shot from the blue.
"Bring Back The Ways Of Old (12 Inch Version)"
Let's deal with the music first: as the title indicates, you're getting pure old-school EBM here. A classic bassline pervades, circling underground throughout alongside steady kicks while skittery fills and sweeps provide bubbling high-end. More than the enjoyable trad-EBM makeup of the song, though, what's bound to attract attention is the lyrical content, which calls for a return to EBM's roots, to "filth and grit". Nordvargr goes so far as to directly question the new generation of industrial artists, with lines like, well, "I question the new generation". Stuff like this is political red meat for anhalt junkies, but coming from someone like Nordvargr it holds much more weight than it would coming from someone who hasn't been in the game since '87, let alone someone who has ventured out into as many fields as he has. When someone spends years working in black metal, dark ambient, and other genres which have enjoyed much more critical praise than EBM ever did, yet still feels a pull to come back to their roots and defend their home turf, it rings true with a ferocious intensity.
"Bring Back The Ways Of Old (Spetsnaz Pushed Around Remix)"
No surprise to see Sweden's biggest Nitzer Ebb fans appear here. Shit, didn't we just review their new record as well? Everything about this single is timely. Anyway, Spetsnaz pull the core elements of "Bring Back" squarely into their comfort zone, swapping in some wet, oomphy kicks and their classic squaretooth sound for the original's sounds. A zippy lead which has more contemporary dancefloor appeal than Spetsnaz would probably care to admit makes this mix feel fresh without selling out.
"Bring Back The Ways Of Old (Autodafeh Remix)"
The tight sequencing of the original is a fair bit different from the 242-worship which Autodafeh are known for, but they still find a way to give their own spin to "Bring Back". You've got some rubbery drums and flanged leads to act as counterpoint to Nordvargr's vocals. While enjoyable, this doesn't quite have brutality of the original or the immediacy of the Spetsnaz version.
"Bring Back The Ways Of Old (Polyfuse Remix)"
I have to admit to not having heard of Chicago producer Justin "Polyfuse" McGrath before, but this mix makes me want to check him out further. His mix taps into the rougher production of the original, and draw parallels between Pouppée Fabrikk's original sound and the French electro and Chicago house strains; commonalities which were always acknowledged during EBM's heyday. Sharp work to be sure.
The Takeaway: Any EBM fan, new or old, should give a listen to the original track, regardless of how they feel about old/new-school divisions. DJs with floors which respond to The Horrorist are gonna love the Polyfuse mix, while those catering to the Familientreffen crowd will be well served by the Spetsnaz mix. If you yourself are a Familientreffen vet, then you've already closed this review, shotgunned some lager and headbutted your dog in the excitement which Pouppée Fabrikk's return has instilled within you.