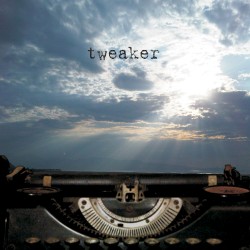 Tweaker
Call The Time Eternity
Metropolis
True, Chris Vrenna's Tweaker has always carried the reputation of being one of those intermittent "producer's projects", a free-form playground to which a well-known studio wizard returns to in their spare time between work with larger bands, both in the studio and on the road. However, Vrenna's always ducked the major pitfall of most projects of that ilk (wonderful, super-detailed production, but short on memorable tunes) by changing the sound, feel, and even standards by which Tweaker's been judged not with each album, but with each track. Guest appearances and quick flips between breaks, stormy guitar and moody washes made the first two Tweaker records slippery beasts. Third outing Call The Time Eternity feels much more grounded, a tactile and directly percussive record which forthrightly grapples with anxiety and frustration.
What's immediately noticeable about Call The Time is how much more of its spotlight is on the rhythmic dimension of Vrenna's work than before. The swampy guitar and wavering textures which were prominent on The Attraction To All Things Uncertain and 2 A.M. Wakeup Call are present, but muted in comparison to the clanging, jarring, yet often undeniably funky passages cooked up here. The brief, bleepy instrumental "Remorseless" from 2 A.M. Wakeup Call perhaps pointed towards this record's mode: furtive, incessant play between percussion and low-pitched synths that accent more than lead. "A Bit Longer Than Usual" feels like something of a roadmap to the overall aesthetic: a nodding beat grows more angular and menacing as extra kicks and growling pads are overlaid, but the matter-of-fact forward propulsion of the track remains.
As I said, despite the clean, unpretentious presentation of these tunes, there's some swing to the rhythms which keeps things from becoming too clinical despite the dampening of the "organic" elements in Vrenna's toolbox. By the time groovy mid-album interlude "Getting Through A Bad Night" rolls around, instrumental hip hop legends like DJ Shadow and RJD2 are the names which come to mind, rather than the IDM comparisons which you might expect from a "Chris Vrenna gets into deep drum programming" record.
There are a couple of exceptions to Call The Time's central modus operandi. Vrenna concocts richer platters to suit guest vocals from Jessicka Adams (of Scarling) and Karin (of Collide), all woozy strings and filters, but with a surfeit of fluttering drum fills that keep the focus on the album's rhythmic dimension. Less deft is the marriage of the album's core elements and some seething, chuggy guitar on "Areas Of The Brain" (which brings to mind Marilyn Manson, the outfit with whom Vrenna recently finished a tour of duty), which feels like something of a misstep.
While less lush than either previous Tweaker record, Call The Time Eternity is no less considered. Indeed, its themes of stress, insomnia, and general mental disquiet (not new topics of Tweaker work but never so prominent than here) give it a singular focus that makes it far more cohesive listen than its predecessors. This makes for a tense and uneasy record (other track titles: "This Is Ridiculous," "I Don't Care Anymore," "Wasted Time"), but it's by no means an unpleasant one. Vrenna's stripped-down approach holds up from a variety of angles, and it's exciting to hear one of electronic music's most varied producers venting via rhythm.