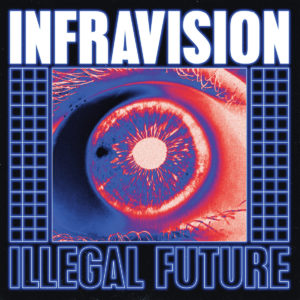 Infravision
Illegal Future
Fleisch Records
Pablo Bozzi (Lapse of Reason, Black Imperial Unit) and Kendal Mula walk a pretty thin tightrope on their debut LP as Infravision; while they describe the album as a "soundtrack to a (not so) imaginary future constructed with clear cyberpunk aesthetics", in practice Illegal Future is an amalgamation of retro electronic sounds and aesthetic touches that borders the creative ghetto of neon-palm-trees-and-Ferraris school synthwave. Where the duo distinguish themselves is through a broader take on retro-futurist electronic music, incorporating EBM, italo, new beat, techno and even nrg into their compositions, eschewing easy nostalgia tropes.
Critical to its success, the design and execution of Illegal Future keeps the soundtrack elements firmly in view across its eight tracks. Sometimes the markers are easy to pick out – check the sirens and unintelligible robotic PA announcements that summon Night City avenues to mind on "4am In Parga Street" – but even in the record's subtler moments there's a feeling that the music's bubbling bass and chorused pads are meant to accompany some classic vision of our burnt chrome future. The idea of a soundtrack for a movie that doesn't exist is hoary, bordering on cliché, but Bozzi and Mula have enough juice in their compositions to justify the premise; to wit the title track's sleek arrangement of FM bells, reverbed snare hits, ascending arps and italo-disco "hey!" chants is so damnably catchy, danceable and cool you can't begrudge it the high concept.
Still, that track's charm might wear thin if it was the only style plied across an entire LP. Infravision avoid that pitfall handily through sheer variation, keeping the mood and feel of the record consistent without repeating themselves from track to track. Sure, you can find the similarities in production between the table-setting opener "Night Drift" and mid-album head nodder "Crossing Borders", but there's an easy distinction between the former's new beat lope and the latter's gated trance pads and tweaky acid lead. "Anthem" revolves around the repetition of a badass arpeggiated synth riff, where collaboration with Fleisch label-boss Zanias draws on electro darkwave signifiers in its bassline and icy melody. Consistency without overt repetition is a handy trick, and one that serves to keep the LP engaging from track to track.
That said, with every track clocking in between six and seven and a half minutes, Illegal Future is definitely a protracted listening experience whose charms might wear a bit thin by the time Vangelis-esque closing track "Outer Limits" begins its long, sweeping fade into silence. Length is at least partially a function of the compositional approach to these songs, and while it could be tightened up in a few spots it's hard to begrudge Bozzi and Mula the album's scope. Indeed, it's part of what distinguishes and defines Infravision's specific vision of the retro-future.