End to End is the format I Die: You Die uses to look at non-album and compilation releases. It's an effort for us to boil down a release on a track by track basis and give the music consumer the skinny and its value as a physical purchase, a download or which tracks to snag from an individually from an online music retailer.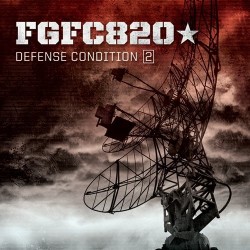 FGFC820
Defense Condition 2
Noitekk
Rexx Arkana and DJ Dracos' harsh EBM project FGFC820 has a new album entitled Homeland Insecurity on the horizon, and as is the style, they've released a remix EP to whet appetites. As a band whose aesthetics are informed by their patriotic (their detractors would say "jingoistic") and militaristic outlook, debate over the quality of their releases does tend to get bogged down well before the music is ever discussed. How does Defense Condition 2 stand up musically? Let's have a listen.
"Insurrection (Call To Arms Mix)"
Although structurally in line with the material on the last full length album Law & Ordnance, this feels a lot tougher and more pared down than anything we've heard from FGFC820 before, almost entirely made up of hard drums and gabber bass. That works well for it, the track has some movement and a real bounce. Above all, it's catchy; after listening to it a bunch of times a week ago I was able to hum the lead today before firing it up on my headphones today. The harsh vocals aren't my cup of tea (or can of rations as the case may be), especially the oddly mixed cookie monster stuff on the chorus, but I can't imagine fans of this style of EBM will be bothered very much, and at the very least they aren't piled with effects.
"2 Revolt Resist (Reload Mix)"
Similar in approach to "Insurrection", but less manic, a bit to its detriment really. I think Rexx Arkana's vocals work a bit better with some more space in the mix, which this gives them, but the song suffers from having its melodic elements mixed back in an almost understated way. It's a remix of an album cut, and I can see a lot of potential in it, but this version isn't anything special. I will say that the lyrics and sample selection on this song fly in the face of the view of FGFC as jingoistic, as they paint the group as very troubled by the US' political direction.
"We Don't Need No World War III"
They absolutely nail this one. The italo/newbeat classic by The Boys from Brazil gets a nice 2011 makeover that still retains the round bass sound and the synthesized exotic percussion. No doubt it's Rexx's deep knowledge as a DJ for literally decades that made them bust this one out, and do it justice no less. Although this did appear earlier on Das Bunker's Choice of a New Generation 80's covers compilation, it's nice to see it make another appearance.
"Insurrection (Fuxxor Mix by Accessory)"
Accessory know from dynamics, and they bring that to bear on this one, making for a very characteristic electro-industrial by way of EBM makeover. The breakdown before the super arpeggiated bassline on the chorus kicks in is dancefloor gold – I actually got a little amped sitting here at my computer. Strong, strong mix.
"Revolt Resist (Comrade Mix by G. Thomas of Funker Vogt)"
Classic Funker style remix, and I mean that in the best possible way. This is the full-on anthemic, future-of-war style of Execution Tracks or Maschine Zeit, made even more remarkable by the fact that they did kind of a lackluster job of recapturing that sound on their own last full-length. Another good club contender, and kind of a match made in heaven considering the philosophical and stylistic similarities between the groups.
"Resolution 9"
This brief instrumental is a bit of a trifle, but does have a nice grind to it. It's a B-side, so your mileage will probably vary based on your level of investment in the group, but not bad for what it is.
"Insurrection (Resurrexion Mix by Arian 1)"
A pretty straightforward take by Peru's Arian 1. I don't know what it is with those guys, their stuff is always slick and smoothly produced but they have yet to "wow" me with any of their remixes or originals. Not bad by any means, but suffers next to that monster of an Accessory remix.
"Revolt Resist (Billion Dollar Killingmachine Mix by Komor Kommando)"
Maybe a bit long at almost 8 minutes, but Komor brings some of his magic to bear on this one with a propulsive, machine-like take. As an aside, I really admire the fact that Seb doesn't let the sounds of his various projects bleed over into each other in remix work, a KK mix doesn't sound like a Melt mix and so on. That speaks to his savvy and focus in the studio; you always know he's gonna do something solid as a remixer and this track is no exception.
"God & Country"
A nice melancholic but still upbeat number to finish things off. Kind of a shame this is a b-side, it's a very strong example of what FGFC820 is capable of, with gated, pumping bass and a melody that works. Hope to hear more in this style on the album.
The Takeaway: At 8 bucks for a physical CD, it's a solid purchase for fans, and certainly worth 5 for the download if harsh EBM is your thing. Especially considering the fact that these sorts of EPs are usually accepted to be full of chaff, it remains strong enough across 9 tracks to justify. If you're cherry picking off of Bandcamp, you could do a lot worse than "Insurrection", the Accessory remix of the same and "God & Country".