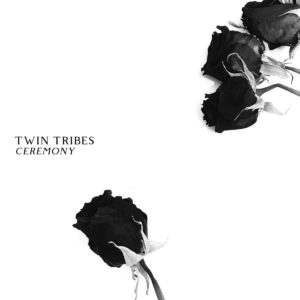 Twin Tribes
Ceremony
Negative Gain Productions
The straightforward charms of Twin Tribes' debut made it one of last year's best records, and arguably the easiest to throw on at a moment's notice, whatever the situation. The Texas duo's direct and melodic style of darkwave was atmospheric yet economic, and ceaselessly catchy. All this made them a prime candidate, just a year later, for a sophomore slump, or at least the perception of one. If they stuck to the formula of Shadows they risked diminishing returns, if they experimented too much they'd sacrifice their accessibility. Ceremony finds Luis Navarro and Joel Nino avoiding both pitfalls, making slight adjustments to their sound while retaining their hooky darkwave prowess.
On a first, casual listen Ceremony might not seem especially distinct from its predecessor: the band's core elements of dreamy synths, well-paced bass, sharply chiming guitar and occult lyrics are all still present, and the record moves along at the same speedy clip as Shadows. But that still endearing template is given an even darker tint on Ceremony. As hinted at during the live set we caught at Cold Waves this year, Twin Tribes are striking out in a more overtly goth direction.
While there was plenty of spookiness to go around on Shadows, the band dive deep into both the swooning and stomping extremes of classic goth rock. The slow, processional "Obsidian" is a gambit that might not have worked while Twin Tribes were just establishing their bona fides, but which they can now pull off with aplomb and credibility. Shadows' "Into The Void" might be the closest precedent the band have for the the driving "Fantasmas", but its steely weight feels new and imposing. And while fleeter numbers like "The River" and "Heart And Feather" feel more of a piece with the band's established sound, little flourishes (heavier bass, a more fatalistic vocal delivery, drum machines blistering beneath fretwork) connote Leeds goth and its enduring legacy. It isn't all relentless gloom, however. The comparatively light and wistful "Upir" and "Shrine" nod to the dream-pop sounds which have never been too far afield for the band, and bring recent tunes from Drab Majesty to mind.
Ceremony quickly proves that the easy allure of Shadows was no fluke, and perhaps more impressively shows Navarro and Nino capable of conjuring tunes just as satisfying as any from that record on a short turnaround. The record's gothier turn emerges organically, offering a slightly new perspective on their sound without pushing their initial appeal out of the frame. Ceremony can't help but reinforce that Twin Tribes rank alongside the strongest dark bands of their generation. Highly recommended.