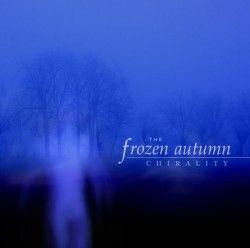 The Frozen Autumn
Chirality
Calembour/Metropolis
The appearance of the latest release by Italy's The Frozen Autumn on Metropolis Records' slate came as a bit of a shock to yours truly. Released on the band's own label, Calembour, in Europe, Chirality is their first album to be released on North American shores (as we discussed in our interview with Dave Heckman). It looks to be a case of fortuitous timing, as domestic audiences aren't just getting a chance to catch up with a darkwave outfit who've been in the game for nearly twenty years, but will also be catching them on a particularly strong and direct outing.
The Frozen Autumn have always sounded just like their name and Chirality's cover suggest: cold, moody darkwave absolutely blanketed in waves of atmospheric synths. This approach has helped them to establish mood efficiently in the past, but it's also been used to paper over thin songwriting from time to time. While still cold and distinctly darkwave, Chirality strikes out with clearer and more plainly expressed tracks than the band's ever attempted, and thankfully the material at hand measures up to the increased scrutiny: the songs here are hooky, to the point, and excellent. Rather than the misty image used for the LP, the art from lead single "Rallentears" suits the feel of Chirality far better, to my mind.
Stylistically, after making some entreaties towards a more uptempo, modern synthpop template on their last LP, 2005's Is Anybody There?, the band has shifted gears again, boldly inviting comparisons to some of the larger names from earlier in the genre's history. There are traces of Bel Canto on "So Brave", and possibly even Book Of Love on "The Exile" and "In The Golden Air". Chirality is still unabashedly darkwave, though, and genre aficionados will find plenty to love. The title track recalls Dark Star-period Deine Lakaien at their most punchy. While there's always been an affinity between The Frozen Autumn and Clan Of Xymox, that similarity is even more explicit here, not just in terms of aesthetics, but pop songcraft as well (think a cross between Medusa and Twist Of Shadows). In any event, Chirality is a damn sight better than the last Xymox outing.
Mainman Diego Merletto's vocals, which have always always been a bit of a liability in my opinion, still scoop a bit more than would be ideal, but have improved nonetheless, and lend an air of suave, crooning detachment to the brisker numbers, and he works within his range for the most part. While there have been guitars in previous Frozen Autumn outings, they've always been heavily muted, a pale primer used to give some relative sense of just how up front the synths and drums were in their mix. Here, guitars are given a stronger presence than ever before, taking just enough time away from the synths to keep the record fluid and varied.
In spite of all of these slight changes, Chirality is still distinctly a Frozen Autumn album, and I can't see any long-term die-hards (let alone more casual fans like myself) having trouble slipping into it. Moreover, if you're a North American fan of darkwave who's been lamenting the dearth of quality releases of late (especially ones without import price tags), you can't go wrong here.