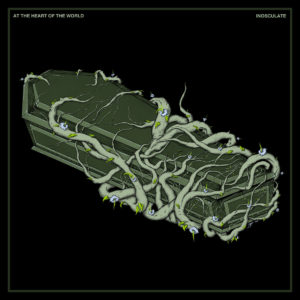 At The Heart Of The World
Inosculate
Glory Kid Records
Portland's At The Heart Of The World have been playing out and issuing EPs for a couple of years, but by happenstance hadn't come across our desk until their new EP. A quick skim of the back catalog indicates that Inosculate functions as the consolidation of a change in artistic direction for the duo of Daniel Porter and Joshua Greene. Having shifted away from a sludge/noise rock-inspired iteration of industrial which connoted Godflesh (or maybe even Skullflower?), Inosculate finds the pair refining a menacing and wholly electronic style of classic electro-industrial to good results.
The beats and programming which make up Inosculate more than make up for absent guitars in terms of texture and weight. Without overstuffing the mix or arrangements, pieces like "Mocked By Death" and "Pain Demands Attention" frame their gritty, semi-psychedelic sequencing in a solid light and know when to ramp the density up just enough to drive the track home. The approach to electro-industrial taken by At The Heart Of The World is perhaps most handily comparable to Kalle Lindberg's Protectorate project, though perhaps not as overtly indebted to FLA.
Porter's background in hardcore is instructive, though moreso in terms of the band's lyrics and general ethos than in direct musicality. The drilling flutters of "Synchrony"'s programming create a Youth Code-ish groove that's an ideal base for the kicks and invective which punch the track up into its rollicking and spiky final form. Whether dealing with personal gripes or trying to tackle the metaphysical conundrums of the universe head-on, the lack of pretense in the lyrics ends up underlining the weight of the music – regardless of sound design Inosculate never feels abstract or spacey in the way electro-industrial often can.
Whether via Street Sects or INVA//ID, we've come to be able to recognize a certain je ne sais quoi in projects approaching post-industrial from an extreme metal or hardcore background. Thankfully, the resulting styles are far from homogeneous and At The Heart Of The World have plenty of their own snarling flair. Inosculate's combo of strong electro-industrial fundamentals more than holds its own separate from the band's earlier styles, and makes for an excellent concentration of their new sound.