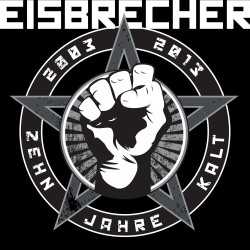 Eisbrecher
Zehn Jahre Kalt
Metropolis
Eiszeit, the 2010 record by Neue Deutsche Härte stalwarts Eisbrecher, was a bit of a surprise hit at the HQ upon its release. It's not that the melodic electronic-tinged metal anthems of Alexander Wesselsky and Noel Pix were a guilty pleasure per se, more that the band's mix of rock and programming just isn't something that one commonly encounters on this side of the Atlantic. Despite being an act which could only have coalesced in Germany, Eisbrecher have ironically been resolute in pursuing a North American audience (much more so than, say, their previous project Megaherz or NDW titans Unheilig), resulting in a long-running distro deal with Metropolis, and currently resulting in Zehn Jahre Kalt, an NA-only collection of bonus tracks, remixes, and other odds and sods previously only available on special editions of their releases only available in Europe, with some re-recordings tossed in for good measure.
If, like me, you can dig the odd Rammstein tune but can't shake the "an inordinate amount of money is being made by jacking Laibach's shtick" feeling while listening to them, and often find Unheilig's operatic touches just a tad too cheesy, Eisbrecher deliver the same Teutonic punch but keep fun and full-bore rock at the core of their concerns. American or Canadian ears might be more accustomed to hearing Eisbrecher's mix of tightly compressed guitars and slick production on sports montages than in local industrial clubs, yet their talent for big choruses and knowing exactly how much programming to layer atop a guitar riff has plenty in common with any of the longstanding club-friendly acts known on these shores, regardless of origin.
Things start up with an ever so slightly tuned-up version of titular arrival statement "Eisbrecher", which gets Wesselsky's talent for scant but effective vocal melodies and Pix's preternatural sense of how to manipulate dynamics across in a tight package. Though you'll likely get a sense of whether Eisbrecher's your cup of tea or not from that track, the subsequent nine cuts mix things up with the odd ballad and even a wubby mix from none other than Daniel Myer. Maxwell Smart's remix of "Verrückt" adds plenty of dancefloor bounce, but doesn't sound so far removed from Eisbrecher's flexible template that it couldn't have been one of their original compositions, all bouncy synth leads over solid rock rhythm programming.
Zehn Jahre Kalt was intended for committed North American fans who hadn't been able to nab the bonus tracks from 2012's Die Hölle Muss Warten, and the appending of the new and unreleased tunes ensures that they're not being fleeced if they've already shelled out for imports. And, while more casual fans might be better off waiting for a new LP proper (of which there should be one next year), I do think that Zehn Jahre Kalt does a good enough job of showcasing the band's sound and range that it ably serves as an entry point for newcomers. Between the originals and mixes, you're getting a good sense of what Eisbrecher do, separate from the expectations of a full LP.