Welcome to this, the inaugural installment of The Unquiet Grave. I'll be using this headline as a vehicle for one of my favourite pastimes (as anyone who's shown up early enough to Sanctuary to catch my first set of the evening can attest): foisting overlooked goth rock on an essentially uncaring public.
Before I start in, I'd like to outline this project and give it a bit of context. Firstly, I won't be profiling any of the ur-sources of goth rock, regardless of whom you'd care to cite as examples thereof: Sisters, Bauhaus, Nephs, SDC, Sex Gang, Gloria Mundi, or back to The Birthday Party, Sabbath or even the fucking Velvets. All of those bands and their influence are well-trodden territory I don't care to rehash. Moreover, their names get dragged out each time any act with a remotely dark sound cracks the mainstream (Interpol, She Wants Revenge), or a new sound or scene claims goth lineage (hi there, gravewave).
Secondly, I won't be looking at any still-active, long-running bands (Faith & The Muse, Mephisto Walz, the impostors on the Christian Death throne), nor, as much as I might love them, any relatively recent bands working in a classic goth rock vein. Instead, I'll be turning to the journeymen, the compilation stalwarts, the hidden gems, the gone but not forgotten. In other words, unapologetic goth rock for connoisseurs only. Strobelight's recent Another Gift From Goth comp is a good touchstone, and I don't think I'm spoiling much by saying that I'm planning on profiling several of the bands on that record. If that's not to your taste, feel free to mosey on over to the latest terror-banana goofs or technoid beard-scratchers. If it is, put on a pot of Earl Grey, light up a clove, and join me at The Unquiet Grave…
This week I'll be looking at French outfit Corpus Delicti. Ubiquitous on goth comps throughout the 90s, Corpus Delicti struck an excellent balance between the bass-heavy, rumbling dancefloor aspects of the genre and its more ornate flourishes. While they certainly weren't Christian Death when it came to the theatricality department, they weren't any slouches either, thanks to lead singer Sébastien Pietrapiana and drummer Laurence Romanini's respective unmistakable make-up styles.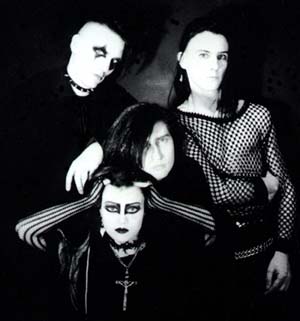 After a pair of demos, 1993 debut album Twilight showed the band quickly establishing a clean and spacious sound, giving each instrument and voice plenty of room to move about. It's difficult not to notice the drums first and foremost, as Romanini flits about with plenty of clopping toms which add to the open, windy feel of the record. Immediately afterward, though, Pietrapiana's vocals, always emotive and textured without yielding an iota of strength, emerge as Corpus Delicti's defining element. The single/title track is a nice piece of work, though for my money it's the double punch of the brash and yowling "Absent Friend" and lengthy, churning "Poisoned Dead Flowers" at the back end of the album that clinches it.
1994 sophomore effort Sylphes is a more varied effort, and in my humble opinion is stronger for it. Things get off to a much crunchier start, with head-nodders like "Patient" and the snarly "…Of All Desperations", while the straight-from-the-loony-bin "Circle" and "Private Slaughter" don't suffer by being compared to The Virgin Prunes. Centerpiece "Saraband" is the real show-stopper, though. It wasn't a staple on goth compilations for nothing: it's a swirling, intoxicating song with a chorus that kicks things into overdrive without losing its elegance. The confidence and conviction of "Saraband" generally holds true for Sylphes as a whole, making it an album that holds together without sacrificing any of its ambition.
Released in 1995, final album Obsessions has a somewhat lighter touch than its predecessors, and while out of Corpus Delicti's established wheelhouse, slower, longer cuts like "Motherland" and "Dragon Song" rank among their best composed tunes. It's an autumnal, contemplative record which serves as an elegant farewell.
Speaking of venturing outside of comfort zones, CD's cover of Joy Division's "Atmosphere" (not on the original French release of Obsessions but found on printings for the UK and US markets) merits some discussion. It's a singular bit of work in Corpus Delicti's catalog, in which they break out not only of their own sound, but also the awful goth convention of trying to make Joy Division songs sound far more dire and anguished than they already are (I'm looking at you, Merciful Nuns). Accented by some guitar fuzziness and almost bordering on twee and/or shoegaze, it's a wonderfully pretty and unpretentious take on a stone classic.
Two best-of Corpus Delicti discs were cranked out by Cleopatra, though neither really manages to cover all of the bases. A better compilation was released by Radio Luxor, but you're best to go straight to the source and check the recent digital compilation for sale from the band themselves, which offers twenty tracks and two bonus videos at a very friendly price. If you're interested in digging deeper, all three albums have recently been re-released on D-Monic with somewhat modified titles: From Dawn To Twilight, A New Saraband Of Sylphes, and Last Obsessions, all with oodles of bonus tracks. The demo tracks on the former aren't particularly relevatory, although the Sylphes and Obsessions reissues dole out some worthwhile B-sides and covers of the usual suspects (Bowie, Siouxsie) which you may already be familiar with, depending on how much of your 90s record-buying dollar was consigned to Cleopatra's inescapable tribute compilations.
Where are they now? Pietrapiana had a solo indie pop project called Kuta going for a while, but the recent news is that he and Corpus Delicti guitarist Jérôme Schmitt and bassist Christophe Baudrion are all in a newly formed act, Press Gang Metropol. While not specifically goth rock, their demo tracks are great; melancholy and melodic new wave which sounds right up to date (Doc Hammer's new project Weep was actually the first thing to come to mind, which is never a bad thing). A debut LP is due at the end of the year, which I'll be sure to check out.
Bonus, mind-blowing, bat-pewping awesomeness: a video in five parts documenting Corpus Delicti's 1994 tour across the US on a ridiculously stacked bill which also included Das Ich, Faith & The Muse, and Rosetta Stone. Stick around to the very end (after the last show at New York's legendary Limelight) to see goth rock royalty hanging out in a Denny's type joint at 3am just! like! you! do!