It's been well over a year since we whistled past the Unquiet Grave, and for that I'm sorry. These pieces tend to necessitate a gloomy weekend bereft of responsibilities save for drinking Earl Grey and listening to records old enough to rent a car (a rare enough occurrence) and prompt heavy Internet k-holes and browser tab overload, but they're also some of the most fun and rewarding to work on. It's also been encouraging receiving messages and tweets from folks who wanted another installment of this ol' goth rock excavation project, so by popular demand, The Unquiet Grave presents the unearthing of Suspiria.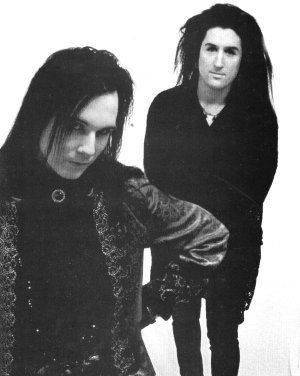 Nottingham's Suspiria formed in 1993 around the duo of vocalist Matthew Carl Lucian and guitarist/programmer Mark Tansley. Like plenty of their second-wave goth rock brethren, Suspiria didn't have a long run of it, only holding together for about four years and releasing just two LPs and a couple of singles. What distinguishes them from the pack isn't just the quality of their material, but their bridging of what we know (and love) as traditional goth rock with the then-emerging sound of electro-goth, typified by bands like Faithful Dawn, Nekromantic, Brother Orchid, and Sneaky Bat Machine (upon whom we can pin cybergoth, for better or worse), with Nightbreed Records acting as a defacto home base for the nascent sub-genre. We briefly discussed electro-goth and its relationship with darkwave on the podcast, but we're talking Suspiria first and foremost today, so let's review what these elegant vamps brought us.
Along with pre-album EP Tragedy, Suspiria's debut LP The Great And Secret Show feels remarkably confident and is produced and presented with none of the hesitation marking early and demo releases by plenty of their peers. The Great And Secret Show is marked by prominent drum programming to be sure, but spiraling guitar lines in minor keys are still the order of the day, and there's no mistaking its doomy mood as anything but classic goth rock. That said, there's also a distinctly airy quality to the tunes. Thanks in no small part to Lucian's vocals, tracks like "Night Time" and "God Takes Dust" feel as though they are forever being spirited from one corner of the room to another, driven by an odd internal tremor. The guiding line which makes all Suspiria tracks instantly recognizable, Lucian's voice remains one of the great litmus tests of goth rock. Either you can't get behind a guy with a voice that's demure and catty by turns (often in the same word) who sounds like he's constantly breathing in, or you can, and if you're in the latter category you'll definitely want to hear him tackle "Behind The Wheel".
By the time 1997's Drama was released, Suspiria's airy flittings had turned to full-on passion plays: part opera, part Burn Book histrionics. Guitars now often took a back seat to synth strings, beats were far more spritely than somber, and scene backbiting and, well, drama, were grist for the mill. "(Now, We See) The Swine" calls out gossips ("Tonight they wish to dine upon that double-backed beast") to a synth lead that's far more Heaven 17 than anything else, and a bonus track cover of Yazoo's "Goodbye 70s" allowed Tansley to go whole hog with disco programming flourishes (including a camp-tastic "whooh-hah!" sample).
Even when it's not indulging in such excess, Drama pushes beyond second wave fixations on guitar while still holding on to much of what made that goth rock template work. This work wouldn't just presage the next few years of UK club aesthetics, but also cement Suspiria as an act impossible to ignore, even nearly twenty years on. "Exclusive" and "All In Pieces" make a virtue out of the sort of minimal drum machine and cramped guitar sound which occupied so much of early goth, while providing a showcase for Lucian's vox, which are entirely sui generis. While early cut "Allegedly, Dancefloor Tragedy" remains the duo's best known tune, no doubt due to it's prevalence on 90s goth comps and somewhat meta context in the midst of club sets, in my book it's Drama's "Awfully Sinister" which best captures the band's charms (to the point that I actually used it as a custom title on gawthy message boards round the turn of the millennium). Guitars are submerged to seabed levels and a hushed but speedy rhythm section is all the propulsion needed for Lucian to cast aside a toxic lover in a flurry of hushed moans.
Shortly after the release of Drama and Primitive Attentions… (a catch-up comp collecting The Great And Secret Show, Tragedy, and a couple of odds n' sods), the duo would split. While Lucian (and his phenomenal dress sense) seems to have vanished into smoky shadow, Tansley would press on, taking his programming experiments to even glammier and more techno-driven levels by releasing a couple of records as Intra-Venus with vocalist Apollos (currently of Method Cell). Having relocated to Australia, more recently he's teamed up with Clifford Ennis (formerly of Subterfuge and Ikon) as Razorfade.
To the best of my knowledge, all of Suspiria's actual releases are currently out of print (apart from a smattering of appearances on ancient comps which have migrated to iTunes), as is the 1998 best-of collection assembled for the US market by Cleopatra (Dancefloor Tragedy). If you can track down copies of Primitive Attentions… and Drama you'll just about have the whole story. Drama especially merits revisiting, as it's that rare goth rock record which cinches so many of the best things about the genre while demonstrating just how adaptable it was to new sounds.