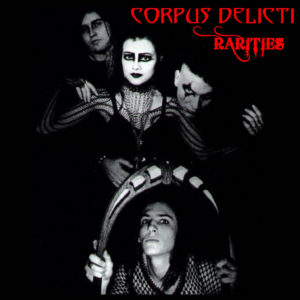 Corpus Delicti
Rarities
self-released
What is it?
French goth rock act Corpus Delicti's reunion, after over twenty years of inactivity, has been put on the backburner for obvious reasons. But whether or not new material is released or shows happen any time in the near future, the band are offering some handy means of getting caught up with their back catalog. The band have long been celebrated by goth rock aficionados (and were the basis of the first "Unquiet Grave" column here at ID:UD), but are perhaps at risk of being passed over by younger goths and more casual genre fans. As a complement to recent digital reissues of their core three LPs, Rarities has been put together to collate demos, outtakes, and compilation tracks, showcasing the offstage development of their theatrical and rhythmic style of goth rock.
What's on it?
A healthy nineteen tracks are on offer here, with demo versions of compositions which would later make their way to Twilight, Sylphes, and Obsessions. Hearing classic tracks like "Twilight" and "Absent Friend" emerge with plenty of rage and fire (if not polish) is a nice reminder of what an inspired act Corpus Delicti were from the get-go, and how they were one of the very few bands to be able to credibly carry on the billowing but driving style of Catastrophe Ballet era Christian Death. Similarly, Rarities also demonstrates how different the band were from the hordes of Sisters clones who'd occupy so much of 90s goth.
The cover tracks presented here feel a tad perfunctory, both in source (Bowie, Siouxsie) and execution, and not up to the quality of their radical take on "Atmosphere", but there are also more exciting detours from their established style on Rarities. The muted recrimination of "The Shelter" is a clever refiguring of late-era Bauhaus experimentalism, while "Empty" sets a storming goth chorus against dreamy lounge verses that bring the more continental side of And Also The Trees to mind.
Who should buy it?
Corpus Delicti should already be on the radar of any proper goth rock devottee, and Rarites offers some pleasant context to their development. It should be noted that thirteen of the nineteen tracks on Rarities were previous collected on the D-Monic reissues of the core LPs. But given that those have been out of print for well over a decade and aren't currently available digitally, it's nice to have the lesser known sides of the band's work collected as a supplement to the Bandcamp versions of the LPs currently on offer from the band themselves.