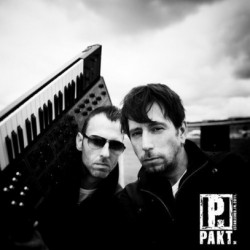 Lotta noise bein' made about "Freiheit", the upcoming single from ex-And One members Chris Ruiz and Gio Van Oli under the auspices of their new project Pakt. In their video announcement of their departure back at the beginning of June the duo made veiled references to a less than civil split from And One vocalist Steve Naghavi (who has already recruited ex-members Joke Jay and Rick Schah as replacements) and further statements have hinted at the sound for the new project; EBM which is pleasing if unsurprising.
They've been updating their Youtube channel pretty regularly with footage showing them working in the studio, and a couple of days ago posted a teaser making-of of the video shoot for the new track. From the scant amount of audio that can be made out the song sounds like the kind of bouncy minimal club song that's been less than prevalent on And One's more recent releases but was once their stock in trade. The tracks on the recently released compilation Naghavi's Selection 97-03 / Best Of Virgin Years certainly seem to indicate that Steve prefers the band's mid-tempo synth-pop styled ballads, suggesting perhaps that Ruiz and Van Oli wanted to make a return to beat-oriented dancefloor songs, which would suit me just fine.
As for And One, I'm actually sort of excited at the personnel change. The new-old line-up is responsible for some really excellent albums, bookended by personal favorite I.S.T.at and what may well be their most celebrated North American release Virgin Superstar.
Check out the video for the making of "Freiheit" below. The single will be out on Out Of Line on August 12.