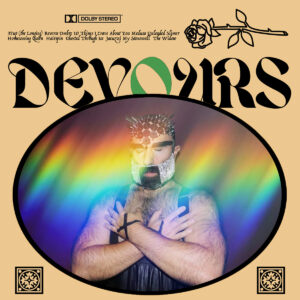 Devours
Homecoming Queen
Surviving The Game
The title of Devours' 2023 LP Homecoming Queen is pretty much a mission statement for the record; having escaped the destruction of his doomed paradise Planet Devours (as conceptually outlined on the stunning 2021 LP Escape From Planet Devours, natch) the self-described synthpop gaylien finds himself back on the streets of Vancouver, and grappling with the memories, queer politics and fraught living conditions that entails. It's a loose framework that proves ideal for Jeff Cancade's confessional style of mutant synthpop, with his earnest, funny and often utterly heartbreaking persona at the center.
Perhaps even more than Planet Devours, this is a record where Devours not only embraces contradiction, but transcends it through pure undiluted emotion and the power of pop songwriting. Being able to wryly fold in laugh out loud put-downs ("You wasted my time by making me chase it/I stalked you online and you're totally basic"), criticism of performative politics and inspirational calls to cast off the things dragging you down, all to a hyperpop lattice of beeps and pitched up samples is the sort of thing we expect Devours to be able to do, but damn if "Reverse Ombre" doesn't still manage to surprise with how effortless it makes it all seem. In the same way, the atonal melody and rapidly evolving palette of synth sounds might seem too frantic for a kiss-off anthem like "Slimer", but the snappy verses are delivered with such a potent mix of frustration melancholy resignation you can't help but be carried away by them. It's not about contrast or the tension between the many musical and lyrical moods of Devours, but the idea that they not only coexist but are intractable from one another.
"Vancouver isn't boring I'm just getting old" is intoned on opener "37Up (the Longing)", a reflective examination of aging and yearning that sets the stage for the LP's thematics in one fell swoop. While very set in the city, Devours' relatability and likeability makes the portrait of his life in Vancouver so easy to inhabit as a listener. You might not know Shaughnessy's reputation as an upscale residential area if you aren't a YVR resident, but you'll certainly catch the inference when you hear the delivery of "It's where you belong" on the diary of love gone awry "10 Things I Crave About You". Likewise, while the various references to streets and landmarks of the city certainly help fill out the world conjured by the record, its more than just lyrical window dressing; the album's most charged moment is "Jacuzzi My Stonewall", a track that playfully sarcastically pokes at the commodification of gay culture by suggesting raves at Shopper's Drug Mart and bears doing body shots at regional family restaurant chain White Spot before transitioning into a an empathetic examination of the generational divides that inform modern queer culture.
Homecoming Queen is a record that trades in plainly stated profundities, never concealing the emotion that drives it, nor the insecurities or experiences that inform it. It can take you to the heights of 16-bit super friendship on "Hairspin" (the world's first Dixie Kong themed empowerment anthem?), before immediately inverting itself into the struggle to make someone you care about see their own value on "Ghosted Through Ice", and never miss an emotional beat. Like everything about the artist who made it, it's singular and universal in gloriously contradictory fashion. Welcome back Devours, we hope you're here to stay for a long time. Recommended.