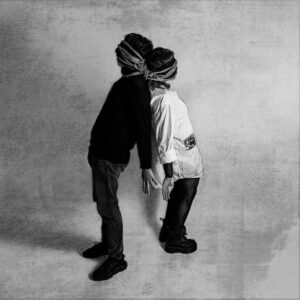 Maelstrom & Louisahhh
Sustained Resistance
RAAR
Having given 2021 one of its most heartfelt and personal records within the techno-industrial spectrum in The Practice Of Freedom, US expat Louisahhh has formally teamed up with long time collaborator, France's Maelstrom, to release the duo's first LP. While arriving at a sound which once again feels very much akin to the current spread of dark techno, Sustained Resistance offers plenty of nods to rhythmic noise, breaks, and the gabber of yore which can either be ferreted out by those curious about the duo's roots, or simply taken as a hammering gestalt as the LP delves into the darkest material we've heard Louisahhh address.
If The Practice Of Freedom was thematically dedicated to turning an eye inward, reconnecting with oneself, and ultimately reclaiming a sense of joy in doing so, Sustained Resistance shifts the focus back outward. Taking care of one's own backyard doesn't fix the world's problems, but it can offer the emotional reserves to tackle them head on, and Louisahhh does so with vigor and bile. "America" quietly and poetically recites the effects of the death drive carrying the country over a cliff atop muted ambience, while the stripped-down martial snap of "Vixen" finds Louisahhh railing against alienation from one's own body that comes with life under Christian Dominionism. Should Hide comes to mind as a point of sonic and thematic comparison as you read, you're not at all wrong, though Sustained Resistance has something of the hauntological about it, as if beats and programming have been surgically excised from raves and electronic sub-genres of the past, as opposed to Hide's minimalist from the ground up compositional style.
If this any of this sounds oppressive to you, well, truth be told the LP often is; Sustained Resistance is unified in thematics and sonics, and by virtue of that it can be a rough go. What saves the record from being a drag is the deep thread of soulful energy that runs through it. Opener "War In Me" and its immediate follow-up "I AM NOT A CASUALTY" exemplify that trait perfectly by their structures and sequencing; the former uses a strummy progression and Louisahhh's forthright delivery to reinforce the humanity in its struggle, which allows the latter to go hard on snappy breaks and smashing percussion, the pump having been primed for the potentially jarring transition. The contrast isn't always so pronounced though, as "If I Could" handily pairs buzzing and saturated drum sounds and swatches of noisy synthwork with a vocal that matches them in character, providing a bridge to the listener looking for some emotional contact point in the mechanical bombast. "Fan the Flame" pulls the same trick in reverse – Louisahhh sounds so vulnerable that the screeching metallic sounds act as a shield, although whether that's for her benefit or the listener's depends on your perspective.
By the time you get to the final heartracing moments of "Enough", a kind of clarity sets in regarding Sustained Resistance. It's right there in the title; the nature of life in 2023 (both political and personal) requires a well of strength and empathy that is often in danger of being run dry from the unrelenting pressure of, well, everything. Maelstrom and Lousiahhh replicate that fraught tension, but also forge a path through it. When Louisahhh intones "Must I dive in again?" on "The Seed" the question is rhetorical, the engagement has already been joined and and the battle is already underway. It's good to have comrades like these at your side. Recommended.