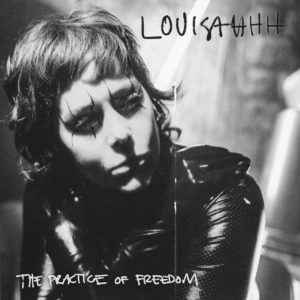 Louisahhh
The Practice of Freedom
HE.SHE.THEY
Louisahhh has been a noted quantity in the techno scene for a decade, both via her wide-ranging DJ sets and her numerous productions, both as a solo artist and in collaboration with notables like Dave Clarke and Brodinski. If you checked her 2017 EP A Trap I've Built or her recent singles in collaboration with producer Maelstrom you might have an inkling of the industrial direction of her new LP The Practice of Freedom, although it's striking how hard the Paris-by-way-of-New York artist goes in on the style, exploring harder and more mechanized sounds than at any previous point in her catalogue.
Lest you imagine that the sound of the record arrived on industrial shores by coincidence, a recent and entertaining chat about the record on Twitch featured Louisahhh commenting on her favourite KMFDM remix, examining Skinny Puppy performances and seeing Ministry with 3Teeth. You can hear traces of those influences in various spots; in the churning riffs that boil underneath programmed bass and drums on "No Pressure", the chopped up guitar that forms the basis of "Chaos", and the thudding percussion that drives "A Hard No". That those elements are put in service of tracks that maintain some of Louisahhh's pedigree in techno while (and DJ accessibility) speaks to her aims as a producer and performer – bridging and finding commonalities. A song like the uncompromising "Ferocious – Unchained" would feel as home at annihilating your ears at Berghain as it would coming through the PA between bands at your industrial scene fest of choice.
Beyond that exploration of sounds and common grounds, the record finds much of its personality in Louisahhh's vocals. Although the icy monotone delivery she's used in the past isn't entirely absent, you can clearly hear her efforts to expand her range as a singer, both emotionally and technically. Sometimes it's via how she approaches a track – the punky and off the cuff delivery she adopts on "Love is a Punk" drives home the song's role as album opener and mood setter for example. But when she really pushes herself it yields the records finest moments: "Master" has her doing soulful and vulnerable over a crunchy slow groove, hints of struggle and triumph landing between each word, where "Numb/Undone" has her passionately shredding her vocal chords over what amounts to a hot rhythmic noise instrumental.
The Practice of Freedom ends up being a kind of dual showcase for Louisahhh as producer and performer. Her work in the former (along with producer and instrumentalist Vice Cooler) eschews standard techno-industrial tropes in favour of a more philosophical exploration of the neutral zone that borders the genres, while her exploration in the latter shines a new light on her as a personality. As a record it's messy, impassioned, and doesn't fit easily into any specific genre divider, and you can't help but feel that's exactly how Louisahhh envisioned it. Recommended.