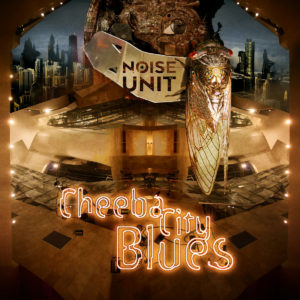 Noise Unit
Cheeba City Blues
Artoffact Records
Bill Leeb's work has always been based in creative partnership; whether in Front Line Assembly, Delirium or any number of his other myriad projects his music has almost always been a co-product with another primary musical contributor. Of those, Noise Unit (initially founded with The Klinik's Marc Verhaegen) has often been a place for him to work with artists outside his usual stable, sometimes field testing potential collaborators or just jamming with like-minded producers. While last year's Noise Unit outing Deviator was made with on-and-off longtime partner Rhys Fulber (with an EBM and electro-industrial feel concurrent with their contemporary work in FLA, if more pared down), new record Cheeba City Blues finds Leeb working on material that integrates unfinished work created by his Echogenetic and Airmech era co-producer Jeremy Inkel before the latter's untimely passing.
The end result is quite the loosest thing we've heard from Leeb in some time, dipping heavily into dub and breaks sounds mostly unheard in his repertoire since the Cryogenic Studios days. There are songs like the title track that play as pretty classic spaced-out dub, albeit with overlays of tripped out digital and analogue synth, recalling William Gibson's vision of the genre as the soundtrack to the still nascent cyberpunk future in Neuromancer. In other songs like "Dub It Up" and "Slow Motion", the reversed reverb stabs and big echoing stereo effects serve as a canvas for chopped and sped up drum n' bass breaks to bounce off one another.
Interestingly, when the tempos are slowed a bit and orchestration comes more into focus, a sort of melancholia flows through the proceedings. Subtle emotional cues have never been Leeb's musical strong suit, but there's no denying the somber and reflective feeling he brings vocally to the bouncy, low-key "Alone Again", a track that revolves around clever use of delays and percussion edits as much as it does his voice. Even absent his presence on the mic, numbers like the soundtracky "Orson Welles Was Right" and "Reality is Less Than TV" have evocative and touching melodies built into them through nice lush string and keyboard patches, the latter track making tasteful use of scratching and vocal samples. It's a brand of sentimentality that you just don't hear from Leeb and company very often, and notable for how well it works when allowed to flourish here.
Conversely, the tracks that lean closer to the electro-industrial template are something of a mixed bag. "Heal All Wounds" does a decent enough job of working some classic choppy 16th note programming and gated pads into the mix, but tracks like "Nervous" and pre-release single "Ether" feel like a concessions stylistically; the shoehorned vocals, fuzzy distortion, and digital glitches failing to serve the songs, and obscuring some of their more interesting musical motifs. They just don't fit well with Cheeba City Blues, an otherwise chill and reflective album, a quality that makes it somewhat unique in the modern Leeb catalogue. That sense of smoked-out rumination alluded to in the LP's title is its defining characteristic, and its most appealing one.