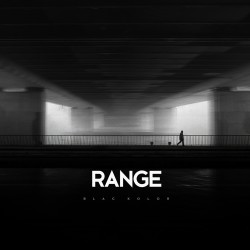 Blac Kolor
Range
Basic Unit Productions
We've been talking a good deal on this site about the new intersections between techno and industrial which are being sketched out by producers young and old, from both sides of these two camps. While it's been easy to position this emerging sound as a simple dialectic between two longstanding genres (I never said we weren't lazy bastards), obviously things aren't as clear cut as that: all manner of other sounds and fields, from electro to noise to garage are in play in records running the gamut from Silent Servant to Velvet Poison to Perc. While still staying minimal and dark, there's a whole mess of these funhouse toys in play in Leipzig producer Hendrick Grothe's debut EP as Blac Kolor.
A balance between beat and atmosphere is Range's most immediate strength, with gun-clip like clicks and popping washes connoting classic Burial, but the woozy, wormy feel of the heated bass is much more in line with French electro, and the stripped kicks are classic minimal techno.
Structurally these four tracks are simple enough, with compositions primarily being built the adding and removing of loops bookended by minimal builds, but there's such a deluge of slippy and bumpy filters that it's difficult to clearly delineate them; a claustrophobic fog is pervasive. That discomfort continues with the submerged, minor key klaxon leads, and there's something almost acid house about the brusque, downtuned vocal sample barking "ghosts" on "Fighting For Ghosts" (sampled from Game Of Thrones, no less!).
Clearly this sort of melange of styles (whatever we'd care to term it) is happening well outside of outré techno circles and Our Thing, as the evident popularity of Gesaffelstein proves (forgive us for having our wigs split by him only recently – a lot of our day to day is still spent slogging through the latest dreck by T3rr0reg0n Tr4ilz). That said, it's great to see the Haujobb boys at Basic Unit continuing to promote this sort of sound amongst their listeners (including yours truly): regardless of its lineage, Grothe is delivering fresh, thick, and dark as fuck product.