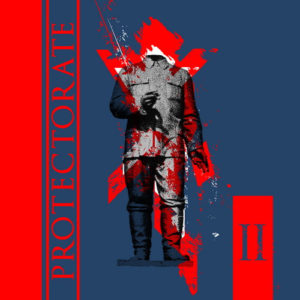 Protectorate
II
EK Product
As one half of Cardinal Noire, Finland's Kalle Lindberg has established himself as one of the preeminent electro-industrial producers of recent vintage, cleaving closely to the path forged by Skinny Puppy, FLA, and Numb. Hell, recent EP Nightmare Worms even took the confusion of the first months of the pandemic as an opportunity to explore the genre's more psychedelic outlands. But Lindberg's solo Protectorate project showed off a slightly more violent and harder-edged approach to the style when it debuted back in 2016. That distinction continues apace with the project's second LP, wherein Lindberg's roots in death metal can be more clearly detected.
II is by no means an industrial metal record (at least in the traditional sense); there's very little guitar and it's comprised of the sort of component programming that most readers of this site will be well acquainted with. But in addition to the black metal-esque delivery of Lindberg's shrieked vocals (yes, the distinction is still audible despite the traditional industrial distortion on them), the grooves on II have some distinctly metal-inspired swing. It's easy to think of Hypocrisy while hearing the rhythmic breakdown of "Necromancer"'s chorus, and the midtempo thrashing bass on "Asymmetic" suggests any number of groove metal acts just as handily as it does Rabies.
None of this is to say that II is any less of an homage to Lindberg's established influences than any of his previous records. Is that a track called "Teargarden" featuring a bass patch sounding uncannily like that of "Spasmolytic"? Yes. Does opening cut "Industrial Action" have an exact runtime of 2:42? Damn right. If you'll always have a soft spot for classic electro-industrial basslines underscored with solid pads and kicks, tracks like "Hexz" will be welcome indeed.
It's been seven years since Lindberg's work first came on our radar, and in that time he (and Cardinal Noire bandmate Lasse Alander) have earned a reputation with us Vancouver die-hards as someone paying proper homage to our city's legacy. But it's nice to hear Lindberg working in some outside influences on II, and giving us the opportunity to hear some classic sounds refreshed and in a slightly reframed context.