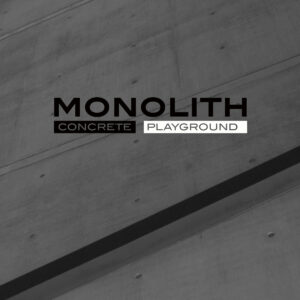 Monolith
Concrete Playground
Hands Productions
A quarter of a century is a long time for an electronic project to release records at an effectively uninterrupted pace, and in the case of Eric Van Wonterghem's Monolith, more than enough time for the wheel of time to come full circle, at least as far as aesthetic trends are concerned. As one half of Sonar alongside his Absolute Body Control and Klinik bandmate Dirk Ivens, Van Wonterghem's work in the former project played no small role in the codification of the rhythmic noise genre he'd go on to further explore with solo work as Monolith. New LP Concrete Playground demonstrates how that work has come back into style in recent years, with Van Wonterghem aligning with current club sounds simply by sticking to his guns.
Densely packed rhythmic engines like "The Mighty Gods" and "The Hunter" very much deliver on what you'd expect heading into a Monolith record with this title amidst the broader techno-body music landscape, augmenting core, metronomic beats with scraping textures and feedback. But their mix and delivery is a nice reminder that this sort of sound can be just as menacing below 130 BPM, and doesn't need to redline kickdrums to the exclusion of all other sounds. It's nice to hear a more subtle and at times expressive take on this format by someone who helped to pioneer it long before it migrated out of purely industrial climes.
Despite the austerity suggested by the artwork (and delivered on in much of the record), Concrete Playground works some brighter moments in between the pure blasts of rhythmic noise. In keeping with the "everything old is new again" motif, things get lightened up a bit with the speedy bounce of "Push", which calls back both to late 90s electro floors and the renewed interest in vintage trance being shown by contemporary acts like Soft Crash.
The relative brevity of many of Concrete Playground's pieces perhaps underlines the second word in its title. Rather than aiming for epic rhythmic noise constructions, with all manner of endurance-test builds and undulating waves of distortion, a la vintage Imminent Starvation, Van Wonterghem offers up brief figures and exercises, in which each track has just enough time to explore and express its sound design and kinetically react to its own components before recusing itself from the party. Feeling much more like a creative scratchpad (albeit a voluminous one at 73 minutes) than the sort of intractable monument the project's name suggests, Monolith's latest is an enjoyable reminder of just how much of the broader industrial-adjacent world Van Wonterghem's work has intersected with.