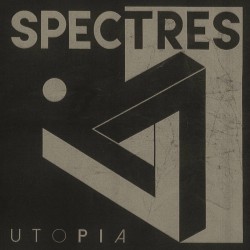 Spectres
Utopia
self-released
The changes which Vancouver's Spectres have made to their sound in the three-odd years since their second LP Nothing To Nowhere have been somewhat difficult for me to trace, as I'm not sure that a six month period's elapsed since then without me catching one of their sets. The songs from third album Utopia have been steadily working their way into their live shows almost since the day Nothing To Nowhere was released. Hearing them formally collected, though, the slight shifts they've made in the dark post-punk sound the band has plotted start to emerge.
If I wanted to be reductive, I'd say that if debut Last Days was Spectres' deathrock record, and Nothing To Nowhere was their pure post-punk outing, then Utopia is their most goth rock record to date. That's not a perfect chronology, but what I mean is that Spectres are growing more reflective, more artful, more imaginative as they progress. They're taking chances with harmonies and dynamic range which they might not have three or four years ago (and some tunes too new to appear on Utopia which are cropping into their live sets bear that trajectory out). This has all been a gradual shift, though, and the band certainly hasn't strayed from their dark and fiery origins. "Figures In The Sand" perfectly demonstrates the balance, with Brian Gustavson belting out a characteristically impassioned call and the sort of piercing lead guitar line the band cut their teeth on, but with a bed of acoustic guitars and lighter drums juxtaposed against those strident elements. There's been the odd slower Spectres number which has aimed at sober reverie, but none so lush as "Crosses And Wreaths".
Taking the title of the record at its word, the blending of goth and punk can have something of the utopian to it (as others have argued) when it's not taken just as an aesthetic hybrid. When you have one foot in the street and the other in the phantasmagoric, the dream of the radical transformation of things for the better is only a brave and imaginative leap away (I recall an old run of Spectres shirts featuring an image of Sophie Scholl, surely a heroine far more deserving of sainthood in these times than Joan of Arc, whose ghost still hovers over doom-minded teens). Steadily, confidently, and compassionately, Vancouver's dark dreamers are bringing their vision for the future into sharper focus.