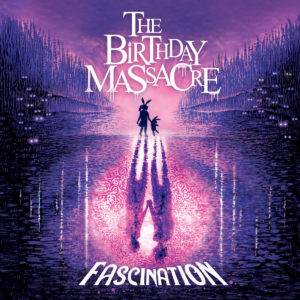 The Birthday Massacre
Fascination
Metropolis Records
How does a band age gracefully when so much of their aesthetic is tied up in youthful whimsy? The Birthday Massacre have always had a sense of adolescent fantasy to their sound, artwork and on-stage presentation, and it's been a key part of the appeal of their pop-friendly dark rock. Now some two decades into their career, the Canadian 5-piece are still capable of conjuring that dreamy and wistful sound on their latest LP Fascination, although the record is shot through with a stripe of melancholy that speaks to their experience and growth.
As with their preceding album Diamonds, the sound of Fascination leans heavily towards the sparkling, winsome sound of their earliest records, forgoing a lot of the heavy rock-chug that made its way into their songs in the mid-00s. A song like the title track is a perfect summation of who The Birthday Massacre are in 2022; "Fascination"'s glittery keys, big washes of guitar and groovy tempo are pretty and evocative, the track still possessed of a sense of wonder but anchored by a more measured vocal delivery from singer Chibi. It's their characteristic sound, and when applied to the album's best individual songs like the sweet "One More Time" and the peppy "Like Fear, Like Love" it really spotlights the band's charm and charisma.
Sadly the issue with the record is that while the production and presentation are excellent and well in line with how The Birthday Massacre should sound, there's a dearth of hooks. "Cold Lights" starts promisingly, adding touches of synthwave to the mix, but never shifts gears once its out of the starting blocks. "Stars and Sattelites" and "Precious Hearts" play with arrangement but are hampered by less than memorable choruses. Their characteristic production and instrumentation and Chibi's considerable vocal charisma are enough to wallpaper things, but those listeners expecting the big, instantly hummable melodies that the band has always been good at may find things wanting. On the topic of Chibi though, it should be acknowledged how excellent she sounds here, injecting a real maturity into the proceedings that balance the trademark fairy tale reverie with the wounds of experience and reality.
The positive qualities are enough to carry the record, and ultimately make it a better experience in aggregate than broken down to its individual parts. Where some songs may be found lacking, the overall feel of the album is unified and can still conjure that bewitching feeling of magic. That may in fact be the best thing about Fascination at the end of the day; the sense that while The Birthday Massacre have grown up somewhat in the last twenty years, they're still yearning and hoping for a bigger, and more fantastical world to be the soundtrack to.