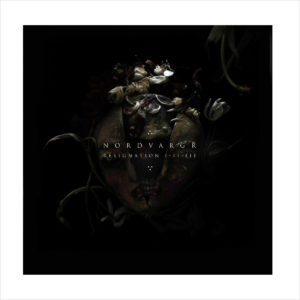 Nordvargr
Resignation I-II-III
Cyclic Law
What is it?
It's just about impossible to keep a handle on all of the various monikers and project names used by Henrik Nordvargr Björk, let alone trying to figure out how to categorize the Resignation records. Partially their own entity, partially filed under the catchall Nordvargr name, the two extant Resignation LPs which make up the majority of this set on Cyclic Law draw together two of Björk's rarely combined interests: ambient music and techno. While hints of both of those sounds can be heard from time to time in Björk's broader catalog, on the whole Resignation represents a radically different strain of work from Björk which is far removed from either the EBM or death industrial sounds for which he is likely best known.
What's on it?
This set, released as both 3xCD and 3xLP (with a separate mix for the latter), gathers both of the existing Resignation records; the first released under the name Resignation as 1887 in 2009, the second under the Nordvargr name in 2010 on limited CD-R, both on Björk's own 205 Recordings label. The third record, hitherto unreleased, emerged out of outtakes from a film soundtracking project Björk undertook in 2017, and was recently revisited at the behest of his wife (and partner in the Anima Nostra project) Margaux Renaudin.
The first album offers a combination of submerged dub beats and heavily phased and distorted strings and pads, some of which are likely originally composed, some of which are likely sampled from old recordings but it's nigh impossible to distinguish between them (Pär Boström's Cities Last Broadcast is perhaps the closest comparison within the world of dark ambient in this regard). That the record is themed around a doomed ballooning expedition to the North Pole little-known outside of Sweden only adds to its particular charm. The second record amplifies the techno strain, placing rumbling kicks atop a more granulated and abstracted bed of noise, making the 2010 material astonishingly prescient as far as industrial interests in techno over the last decade are concerned.
Coming so long after the preceding two records, it's perhaps no surprise that the new Resignation feels of a different genus. Dark techno is still the dominant motif, but rather than taking on the austere and often impersonal character of modern TBM, compositions like "Moder Kaos" feel positively florid, lively, and chaotic in their multi-tracked maximalist approach. A more techno-fied version of the deconstructed EBM madness of Björk's Nexus Kenosis project is perhaps the closest comparison that could be made to long time Nordvargr aficionados, but that the aforementioned soundtracking work was meant to score a club scene in a film is instructive as well.
Who should buy it?
For committed Nordvargr fans, the collation of all this material offers a focused and intense crash course in a dimension of his work which is rarely explored, let alone in such depth. Appreciators of the broader hauntological movement in music will likely find much to love in Resignation – it's not often one finds connections between Nordvargr and the likes of Burial and Caretaker, but here we are. Additionally, those with a taste for techno-industrial who have found recent work in the crossover style to be a bit stagnant are likely to find plenty of tracks here which will refresh their interest.