Replicas is the handle we use to write about reissues and archival releases, offering some thoughts on the original material, and whatever additional goodies or format shifts may have been appended. Today we're cracking the reissued debut of one of our preferred (and very acerbic) Swedish acts…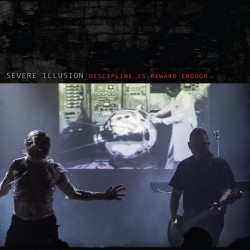 Severe Illusion
Discipline Is Reward Enough
Advoxya
What is it?
Severe Illusion was born out of Fredrik Djurfeldt and Ulf Lundblad's mutual feeling that "the whole EBM scene had turned into cheap pop music", and 2003's Discipline Is Reward Enough was the first major product of that sense of dissatisfaction, after a couple of EPs and a self-released demo. In the fourteen years since Discipline's release, Severe Illusion have carved out a cult following in some of the more remote corners of Our Thing, both in terms of taste and geography.
Discipline contains all of the caustic cynicism which has become the duo's trademark. Tracks like "Runner" and "Penalty" (and, hell, the album's title alone) conjure images of a world in which we are made willing participants in our own oppression (the They Live samples which crop up at a couple of points are appropriate here). After enduring a round of the band's brusque scouring of the veener of 'polite society', one might have trouble identifying a sense of self worth liberating. That's the unnerving line of questioning Severe Illusion are capable of sending one down.
Musically, the balance between Djurfeldt's vocals and the programming isn't as synced in as it'd become in later releases, and the familiar Klinik-like vocal distortion which would be later whittled away sometimes runs the risk of obscuring the band's thematics. That said, the synths, bass, and kicks are all thoroughly punchy and as biting, with bar after bar of staccato punishment. Severe Illusion have always communicated a sense of dispassionate confrontation to me, and Discipline Is Reward Enough shows that they had that eerie mood on lock from the get go.
What's on it?
Advoxya's 2-CD reissue is about as jam-packed with bonus content as could be hoped. The LP's original ten tracks are complemented by a whopping sixteen additional pieces, with the whole affair crossing the two hour threshold. Rather than just bunging things up with relatively indistinguishable remixes and the like, the bonus material is predominantly previously unreleased versions, live collaborations, and outtakes which span the band's entire career, from their first demos right up to last year. Trying to triangulate songs based on sound (does this come before or after the original Discipline release?) is a fun enough exercise, though I proved woefully inept at actually placing the tracks in the band's chronology without checking the detailed liner notes.
Who should buy it?
Severe Illusion's appeal should be immediately apparent to EBM purists who've yet to check them out, and this edition of Discipline Is Reward Enough offers, um, enough reward for those who like their stuff blunt and aggressive, but might also appreciate a break from the neo-trad strains of anhalt. But I've always thought that the band's brand of social criticism, never quite reducible to a simple political platform or reactionary nihilism, deserves a larger audience in North America. If grinding EBM with some fresh takes on themes you're well accustomed to sounds appealing, I heartily endorse Severe Illusion, and this exhaustive release gives you everything you need to get acquainted with them.