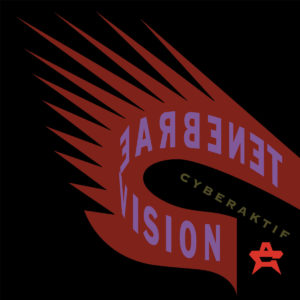 Cyberaktif
Tenebrae Vision
Artoffact
What is it?
On paper Cyberaktif's sole LP Tenebrae Vision is a big deal. The industrial supergroup composed of Front Line Assembly's Bill Leeb and Skinny Puppy's cEvin Key was formed just a few short years after the former artist's exit from Puppy, during a particularly fertile period of creativity for the principles involved. In practice, though, the album has flown under the radar in recent years, mostly remembered for the inclusion of stone classic club number "Nothing Stays". In fact, despite its considerable pedigree the record had only seen repress once since its 1991 release, until Artoffact did a generous vinyl reissue in 2017. Now available via AoF on a completist double CD, the casual and dedicated fan have the opportunity to really assess Tenebrae Vision's legacy and its place in the catalogues of the artists who made it.
What's on it?
Legend has it that Wax Trax commissioned the Cyberaktif album to try and determine what might have happened musically had Bill Leeb remained in Skinny Puppy instead of leaving the band in the mid-eighties. Whether that oft-repeated tale is true or not, the album doesn't really answer the question: for one thing Leeb's replacement in Puppy (and arguably the catalyst for that band's transformation into genre-defining post-industrial pioneers) Dwayne Goettel was present throughout the recording sessions for Tenebrae Vision, providing keys and sample manipulation. Secondly, Tenebrae Vision feels more like a fusion of what the artists involved were up to in their own projects at the time than it does some alternate history version of SP.
Specifically, songs like opener "The Road Kill" and "Acid Cripple" feel very akin to the sort of sample and sound design exercises Key and Goettel were working with as Doubting Thomas, albeit with vocals provided by Leeb to distinguish them. For his part, Leeb (credited on the original release by his old school alias Wilhelm Schroeder) brought the rigid basslines and mechanical textures of the records he and Rhys Fulber released immediately proceeding and following Tenebrae Vision, 90's electro-industrial standard-settersCaustic Grip and Tactical Neural Implant. The vocoder heavy "Ruptured Freeks" sounds like it could have popped up on any FLA record of the era without seeming out of place.
In practice the two flavours work reasonably well together without necessarily gelling entirely, never wholly committing to trippy experimentalism or full-on sequencer bending dancefloor assaults. That said, the middle ground between those extremes is explored in some notable ways, like on "Brain Dead Decision" where a mechanical double time bass groove is buffeted by complex delays and oddball blasts of noise, or "Dis Coarse Illusion" where a dubby loop has delicate sequences built over top of it. Aside from "Nothing Stays", the record's undoubted highlight for most heads is "Paradiessiets", which features vocal and writing contributions from Blixa Bargeld, adding a goodly amount of Einstürzende Neubauten's Haus Der Luege to the proceedings.
The reissue also gathers all the extant material released on the "Nothing Stays" and "Temper" singles, which is not an inconsiderable bonus: b-sides "Black + White" and "Dream Needle" are as good as anything on the album proper and well worth the time for those who are only familiar with the classic LP tracklisting.
Who should buy it?
Cyberaktif was always meant to be something of a one-off, so presenting every track the project produced in one package is a mitzvah to industrial archivists and neophytes alike. Beyond the variable quality of the material, most of which comes in above decent but below essential, it's a useful historical document, and one that provides some context for other celebrated works by its creators.