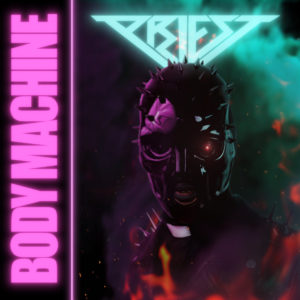 Priest
Body Machine
Blue Nine/Cleopatra Records
It's common-knowledge that two-thirds of Swedish synthpop act Priest are former members of mega-popular rock act Ghost, and like the latter band they use extensive costuming and aesthetic stylization as part of their presentation. To be frank, there have been times that their big visual presence has done a lot of heavy lifting for them; while it's easy to recall their cybered-out leather masks and makeup, their songs have often lacked strong hooks, never quite sticking the way they should in spite of strong production and reasonably good songwriting.
New album Body Machine takes a slightly different approach, integrating a more minimal, EBM-like approach to arrangements, as well as some left-field stylistic swings. It's a good sound for the band that helps the songs feel more impactful – as evidenced by single and lead-off track "Signal in the Noise", the use of a harder-hitting programmed drums and a simple cycling bassline provides an excellent framework for their synth melodies and vocalist Mercury's varied delivery. To put it plainly, the more stripped down and groovy the songs are, the better they get across. The detuned bass a-la-And-One of "Ghost Writer" and the sample laden "Hell Awaits" (sadly not a Slayer cover) are better for the skeletonized approach, each with a little extra vocal seasoning of their own to remember them by; the former with a full-on stage whisper of the title, the latter with a distorted metal growl.
While that less-is-more template informs most of the record, it's the diversions from that framework that give the album a feeling of completeness. "Blacklisted" comes on the heels of several tracks with similar bass programming, so its clacky and rubbery Gessafelstein groove plays as a refreshing switch-up when it lands. Closer "Keep on Burning" works some classic techno-pop into the mix, with chintzy keys that recall any number of eurodance hits and one of Mercury's most singular performances as a singer, conveying both charisma and really pushing his range to get the uplift in the chorus right. It's "Perfect Body Machine" that might be the album's leftfield standout; featuring so-bad-they're-good synth horns, full on electro-funk rhythm programming and a a bit of half-rapped patter worthy of Thomas Dolby, it's a genuinely unlikely and smile worthy cut.
Priest's classic weakness when it comes to memorability isn't entirely absent from Body Machine – single "Techno Girl" and the electric bass-led disco of "Nightcrawler" are decent and interesting songs in search of better choruses. That said, it's still the best the band has sounded in terms of approach and execution, with material that both suits their theatricality and can stand on its own as a pure listening experience. Priest have cracked the formula and it'll be interesting to hear how they apply it going forward.