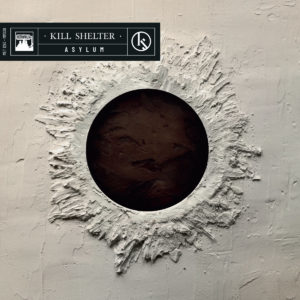 Kill Shelter
Asylum
Metropolis / Manic Depression
Despite being a relatively new project, Pete Burns' Kill Shelter clearly has deep connections to the origins of goth and darkwave. That would have been apparent to anyone who checked out the Edinburgh act's debut LP Damage or last year's collaborative release with Antipole which earned lots of spins around the HQ, but to anyone just getting on board new LP Asylum is even more overt in its aims. Like Damage, it features a rotating cast of vocalists, and the names tapped for Asylum certainly befit its knowing forays through some classic sounds.
Darkwave and goth royalty past and present grace the record with their vocals, from foundational presences like William Faith and Ronny Moorings to members newer canonical acts like Ash Code and Agent Side Grinder. Thankfully, Burns has not only written base tracks which match up very nicely with his guests, but has more than enough personality and flair to his own production style – a combo of classic goth licks and a machine-rock amplified approach to the hazier side of darkwave.
That combination of stone classic homage and contemporary credibility is the "have your cake and eat it, too" formula which runs through the record. Are "Buried Deep" and "The Necklace" both heavily indebted to the Sisters? Sure, but there are massive differences in the particulars (the former sounding like a doom metal interpretation of "Marian", the latter the original "Temple Of Love" 45 played at 33), and the different instrumentation and production styles in which those core riffs are sleeved should spark all manner of lateral thoughts and experiences in the mind of the seasoned goth connoisseur.
Those little distinctions ultimately make up Asylum's charm. For instance, William Faith is in fine form on "Cover Me", sounding a bit less snarling and more delicate than he generally has of late on Bellwether Syndicate records. But if Faith's vocals hearken back to his early California goth classics, the track itself's more modern, heavy, and icy take on the genre only makes those era-spanning aesthetic choices all the more apparent. Helpfully, these particulars serve as a sort of litmus test for the listener; if you're the sort of person who'd be able to notice those subtleties, then you're precisely the sort of person Asylum was made for. Recommended.