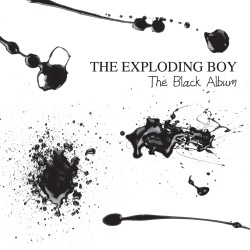 The Exploding Boy
The Black Album
Ad Inexplorata/Vendetta Music, 2011
It's been a few years since I checked in with Sweden's The Exploding Boy (not to be confused with The Exploding Boys, the tribute act who take their name from the same Cure b-side). The songs I heard on compilations and the like when the band was starting up had some pretty enough moments, but never seemed to fully hold together or reach beyond their own immediacy. It's very easy for contemporary post-punk to sit in such slavish devotion to earlier bands that its own identity becomes eclipsed, and without anything in particular to set them apart within the field of their own contemporaries (like the restrained, simmering mystique of The Prids or the all-out emotional gallop of The Opposite Sex), I feared The Exploding Boy might be just another band with some pleasant trappings, but without the songwriting chops or sense of identity to make any real impact.
I'm always happy to eat my words when it comes to bands who had previously failed to impress, and didn't have to wait long to do so in this case: I was nodding and humming along to lead track "Human" a minute and a quarter into The Black Album, their third LP. The excellent ear for melodic give-and-take shown on that track nicely presages the range of sounds to come. Mid-album highlight "Sweet Little Lies" mixes a crystaline synth-lead with chugging guitars to great effect. Speaking of guitars, it's a great change of pace to hear a post-punk record which doesn't overdo the "gloomy basslines dominate the mix while light guitars tinkle and chime" trope. While that sound does crop up from time to time, as on "Torn", The Black Album also features a whole mess of reverbed guitar, played fast and with precision. I feel a tad peevish writing this, but there's no way around it: The Black Album rocks, and not infrequently.
While the usual post-punk influences can be ferreted out, they're never overbearing (though the acoustic guitar of "Talking Back" does lean a tad close to "The Blood" by The Exploding Boy's namesake, and there's a clumsy Interpol lyrical pastiche on "Dark City"). The album's deftly produced, with arrangements and mixing varying wildly across its ten tracks to suit the mood of each. The Black Album might be the most misleading record title of 2011; there's light and colour aplenty here, with great harmonies and memorable choruses. Don't tell the post-punk cognoscenti (y'know, folks with Pink Flag lapel pins and Comsat Angels bathrobes who insist on a rigid quota of angularity and chill in their records), but The Exploding Boy just delivered a great rock record.
(The US pressing of The Black Album features four bonus tracks taken from their previous LP, 2009's Afterglow. While there's nothing wrong with these tracks as such, there's nothing really remarkable about them either ["London" being the exception], especially coming as they do on the heels of the diverse and memorable suite of The Black Album. If anything, they shine a light on just how far forward The Exploding Boy have jumped with their new material.)