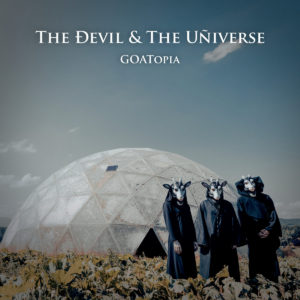 The Devil & The Universe
GOATopia
aufnahme + wiedergabe
Never let it be said that aufnahme + wiedegarbe mainstays The Devil & The Universe aren't self-aware. While the self-described "goat wave" act have made a discography of combining darkwave, techno, and psych sounds into pagan rave-ups, the trio of Ashley Dayour, David Pfister and Stefan Elsbacher have managed to incorporate camp without crossing too far over into parody. There latest GOATopia has them jumping off from the preceding record :Endgame 69:'s Satanic panic and hippie murder themes, envisioning instead a world of esoteric heathen excess.
The Devil & The Universe's strong suit has traditionally been in sprawling, uptempo numbers where organic drum sounds and synths build up big trance-inducing grooves, usually ornamented with some additional organic elements that tie-them to the band's folk horror aesthetics. The record has a few such numbers, and in keeping with history they're the strongest songs on offer; "Viva! Goatopia" marries a fast-moving arrangement of kicks and snares around squelchy synthlines and a chorus of ominous vocals, contratsed with portentuous sample work, while "The Great God Pan Is Dead (Long Live The Great God Pan)" works a high bpm mix of hand-drumming and ceremonial chanting to good effect. Both are songs that would work fine mixed into purer techno or darkwave DJ sets via their emphasis on rhythm and atmosphere over all else.
The slower-rolling cuts aren't without their charms either, and show some interesting developments in how TD&TU approach composition. "Spleen Cockaigne"'s plonky bass and tikky drums provide a quirky foundation for the track's sinister arrangement of strings, a break for reflection some more orgiastic songs in "Viva! Goatopia". "Eschaton" revisits the band's harpsichord-driven sound of a few releases previous, but works them into a much more complex arrangement of sampled instrumentation and synths. Not all the numbers work quite so well – closer "Psychogeography" borders on dark ambient but never quite coheres, just as "Amaurotum Sunset" meanders between ideas – but they're none of them lacking in at least one or two interesting ideas.
It really should be noted how good The Devil & The Universe are at underpinning their schtick with interesting musical ideas: GOATopia is perfectly listenable without considering the magickal trappings and paganistic associations, although those latter elements do a fair job of dressing up and tying the album together. You won't find many acts making music this weirdly self-assured in its presentation, and that confidence in execution ensures the LP has some earthly pleasures to offer.