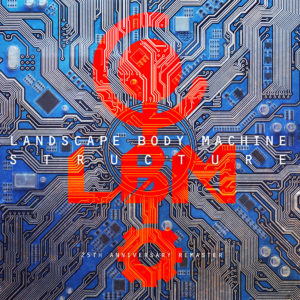 Landscape Body Machine
Structure (2021 Remaster)
self-released
What is it?
Craig Huxtable's Landscape Body Machine has been a fixture in the storied Vancouver industrial scene for decades; anyone whose been around the Terminal City's alternative clubs or seeing shows for any length of time will have caught one of Huxtable's energetic live performances at some point. While LBM's tenure and presence in the heartland of Canadian industrial didn't start with the release of 1996's Structure, it's certainly what cemented it, the album having become something of a calling card for the one-man project and its highly detailed instrumental industrial.
2021 brings a 25th anniversary remaster of the LP by Huxtable's partner in OHMelectronic Chris Peterson that maintains the gritty mid-nineties bite of the original version, while cleaning up the mix and allowing a more granular examination of the album's intricate production style.
What's on it?
The entirety of the original Structure is here, with two live recordings and one unreleased track appended. While the bonuses are nice (and manage to convey the energy that Huxtable brings to performing instrumental synth music), it's the updated sound of the album that proves most intriguing. Huxtable has always been a dab hand as a sound designer, applying his skills to uptempo and more ambient numbers alike. For those familiar with the record, the difference is striking: drum hits and sample work on the more rhythmic numbers like the clanking "Point of Entry" and the manic "Isolation" have more impact and clarity, where softer passages like the lengthy pads and whirring synth textures of "Plains of Nazca" reveal additional depth. This latter effect is most apparent on the vast soundstage of "Esoteric", a spacey orchestral number that presaged countless video game and science fiction movie soundtracks of the last two and a half decades. This last point is key; while the upgrade's revelatory quality might go unnoticed by new initiates, it shines a spotlight on how Huxtable's work was ahead of the game in proximal styles like late nineties technoid ("Subterranean 2 – Terraforming") and electro-industrial ("Time Collapses Inward").
For what it's worth this is also the album with the infamous novelty club hit "No Cable", a simple electro number built around a profane phone message that circulated on the early internet. If you've never heard it buckle up, because the language gets salty.
Who should buy it?
This is an easy sell for anyone interested in mid-period electro-industrial from that style's golden era. If you know the record, the tremendous remaster and the technical acumen it reveals is reason enough to revisit. If you've never had the pleasure, it's a real document of how much could be accomplished in the pre-DAW era by a determined programmer and performer with a keen ear and attention to compositional detail.