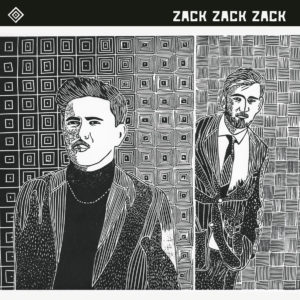 Zack Zack Zack
Album 1
self-released
Few acts make the sort of first impression Austria by way of Turkey duo Zack Zack Zack did earlier this year with breakthrough track "Bütün". Slick, smokey, and offering a unique take on continental intersections of darkwave and post-punk, it was an immediate hit chez nous. Now, a few months after the band's debut EP, an LP made up predominantly of pre-released material has arrived. While the record features a good amount of the same atmospheric magic which made "Bütün" one of our favourite tracks of the year, it also feels rushed and somewhat underwritten at points.
The charms of Zack Zack Zack's first EP are still patently apparent on Album 1; to wit, its first five tracks are made up of the entire EP. If you didn't check it out upon release, there's plenty to like beyond "Bütün". The monomaniacal Neue Deutsche Welle of "Alles Was Du Hast" sits in stark contrast to the loungey cool of "Galactical", while "Disco Traurig" sounds like a hungover Phoenix stumbling their way through a mid-aughts electroclash club (in a good way).
It's in the extension of that EP's worth of material out to a full-length that Zack Zack Zack lose a bit of steam. Sure. the previously released "Bak" taps into the same vein of savvy dancefloor post-punk as "Bütün", now with added saxgoth (perhaps suggesting Poni Hoax), while closer "Zelzele" slows that style down to a loping, gothic grind. But given that most of the tracks unique to the LP are brief instrumentals which feel like interstitial mood pieces, it's easy to lose track of the album's second half. "Taube", for instance, feels like a charming enough but rather simple Cure or Siouxsie B-side from '85. It's fine as an amouse-bouche, but amidst a number of rather similar pieces it slips by without leaving much mark.
Make no mistake, Zack Zack Zack are a band on the rise and who are capable of mining a range of sounds to excellent effect, as the highlights of this record show. Album 1's faults lie more in its formatting (seven previously released tracks) and front-loaded sequencing than in its overall appeal. If you missed the band's big moment back in February, by all means use this opportunity to get caught up, but those who've been keeping pace may need to wait a bit longer for the next leap forward.