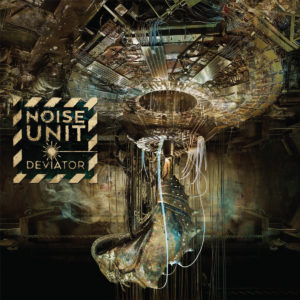 Noise Unit
Deviator
Artoffact Records
Front Line Assembly side-project Noise Unit has taken on many forms and purposes over the years. Originally a collaboration between FLA's Bill Leeb and The Klinik's Marc Verhaeghen before the latter moved on in the early 90s, the project has largely been defined by its proximity to what was going on in Front Line. It has even acted as something of a try-out for collaborators, with names like Chris Peterson and Jeremy Inkel making credited appearances on Noise Unit releases before moving on to being Leeb's creative partners in FLA in the 90s and 2000s.
New Noise Unit album Deviator, the first since 2005's Voyeur, is still shaped by the current state of Front Line Assembly, coming hot on the heels of that band's 2021 release Mechanical Soul and featuring the storied Bill Leeb and Rhys Fulber partnership at its core. That's a benefit in a lot of ways – we found the last several Front Line releases to be underwhelming, due in part to the expectations attached to that project's broader legacy in industrial music. Freed from that, many of the criticisms you could level at those records (such as over reliance on guest musicians and the use of production to cover for underwritten songs) become moot. Simply put, Deviator is in line with contemporary Front Line Assembly musically, but without the baggage.
And by and large that works in its favor. Whether the material here started life as potential inclusions the last Front Line album or not, the way in which they're being presented seems to make a lot of difference in the listening experience. There's a pleasing sense that Leeb and Fulber are having fun with these songs, building them up from whirring mechanical grooves but then turned in different stylistic directions. Check out the similarity to the sequences at the heart of "Body Aktiv" and "Fargo Field" for example; both employ looping basslines but one is programmed into an effective EBM stomper, while the other one comes across as a smooth cyberpunk bit of electro-industrial. Similarly, the design of "Empath" and "Plight" have much in common in terms of tightly programmed sequences of squelchy beeps, but use space and stereo placement to vary their textures between big and spacey and tensely proximal. The feeling is that this is a more relaxed and exploratory mode for Leeb and Fulber to try out ideas, and that has a certain charm to it.
"Like recent Front Line, but with a lower bar to clear" isn't much of a sales pitch, and to be clear the material here on Deviator isn't better by leaps and bounds than that of Mechanical Soul. But this is genuinely a case where context matters; where I might balk at the goofy industrial rock guitar and vocal theatrics of Pig collaboration "Atrocity Exhibition" on an FLA album, it reads here as part of suite of stylistic variations and experiments. In the end its Noise Unit's fluidity in terms of identity that ends up being their biggest strength.