End to End is our track-by-track take on non-album and compilation releases, in which we try to give thumbnail first impressions of each song and point to particular numbers for cherry-picking via the consumer's online retailer of choice. This time we listen to the remix EP stemming from Diskonnekted's Hotel Existence, a broad-reaching LP from the Belgian outfit which dropped a year back…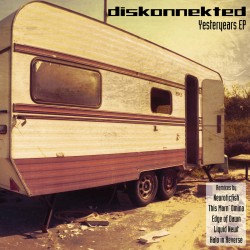 Diskonnekted
Yesteryears
Alfa Matrix
Very much like, say, mind.in.a.box, the format of the remix EP seems to suit Jan Dewulf's Diskonnekted well. While there's definitely club potential in the LPs released by the band over the past decade, they've always blended their elements so well that there aren't any obvious club-bangers; rather you get a plethora of considered and fully-fleshed tunes for which crossover appeal is secondary. The clear delineation of some reworkings aimed at a broader audience seems like a savvy enough move in that light; let's see how it plays out.
Yesteryears (Radio Existence)"
I loved the juxtaposition of the reflective and melancholy vocals and guitar and the snappy punch of the breakbeat on the original version of this track, so I can't help but feel that something's lost in swapping out the latter for a much more straightforward four-on-the-floor. That said, there's a new dynamic created; you find your feet moving much more quickly on the dancefloor than your upper body, your arms going all wavy as the lasers slice through the machine-pumped fog…
Yesteryears (Neuroticfish Mix)"
Sascha Klein strips the track down to its core elements, then welds them to the sort of classic futurepop engine that has us so excited for the 'fish's return. While I'm not sure I'd want an entire LP of Diskonnekted material this amped up, a vocal-forward mix like this makes me think Dewulf might've been able to make a solid go of it in a straight-up futurepop act.
"Personal Demon (Radio Existence)"
A punched-up revamp of what I'm pretty sure is the first Diskonnekted track to see an official release. The original's much darker than anything from Hotel Existence and has an almost endzeit crawl; while the drums are nicely choppy here, it's the all-in-the-red, heavily filtered pads that take precedence here, accented by a heavy dynamic between verse and chorus. Depending on regional preference, I can see selectors digging this.
"Empty (Radio Existence)"
Was not expecting a tune-up of this track, which was by far and away the quietest and most minimal on Hotel Existence. The beats and guitar which are added are tasteful enough, but I'm not sure that it's enough of a transformation to justify the loss of tension.
"Neverland (Halo In Reverse Mix)"
I've always found Halo In Reverse's slavish devotion to NIN to be a bridge too far, but there's none of that to be found on this gloomy, classic electro-industrial mix. The original was a maelstrom of elements (guitar, big beat breaks, wubs), and it's impressive how well the song itself holds up in a more stripped-down form.
"Justify (VIP)"
One strain of dn'b is traded for another, with a bit more techstep here. Nice integration of guitar adds some texture to speedy breaks.
"Yesteryears (Edge of Dawn Mix)"
This is the mix I was most excited to check when I cued Yesteryears up, and it delivers big time. The big, warm, panoramic washes and pads which Mario Schumacher and Frank Spinath are known for segue perfectly with the original. Straight up chocolate and peanut butter right here. Say, now that Ghost & Writer is over and done with, howzabout starting a collab with Dewulf, Frank?
"Yesteryears (Liquid Newt Mix)"
Info on new Diskonnekted keyboardist Liquid Newt is in short supply, with one or two remixes for A Different Drum from five years back being the sum total of his work I could ferret out. This is very much in that vein, half trance pads and half electro-pop gurgles. Okay, but not great.
"Tunnel Vision (This Morn' Omina Mix)"
Taking a small slice of the original tune's lengthy downtempo intro as a starting point, TMO wind it out into a characteristically trippy thread, detouring through wet psytrance territory.
"Yesteryears (Ambient)"
Served soupy and slow with a helping of low-boil leads, this is a nice enough aperitif. Five versions in and the core song's still interesting and enjoyable, so that's worth something.
The Takeaway: Fans of Diskonnekted's broad-ranging approach to instrumentation will find lots to love here. While, yes, these are slightly clubbed-up mixes, they still cover a swath of terrain wide enough to make tossing Yesteryears on around the house a fun listen without much overlap. DJs looking for a short and dirty list of club tracks should grab the Neuroticfish and Edge of Dawn mixes, and give each of the in-house "Radio Existence" mixes a test drive.