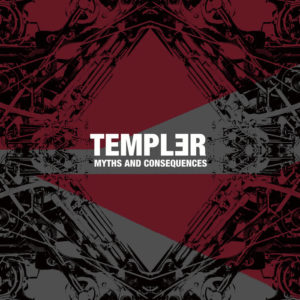 Templər
Myths And Consequences
Hands Productions
The new record from Templər, AKA Thomas Chalandon of Imperial Black Unit, might be the sort of reset and reorientation those of us who fixate on sub-genres and the hybridization thereof, especially in these days of techno/industrial dominance. Preceding Templər release Human Hate had at least one foot firmly planted in the techno-body world, but Myths And Consequences quickly shows that its appearance on Hands isn't the product of happenstance. Much more so than any release from the Imperial Black Unit clique, it's a powernoise record through and through, and delivers a strong set of tracks in that style.
Fans of classic Hands and Ant-Zen acts have for several years been pointing out just how close to OG powernoise so many current TBM acts sit, and here Chalandon acknowledges that debt, and pays it back in full. From the opening slinky, scraping grind of "Road To Jounieh" and onward, Myths And Consequences sounds like something one might hear emanating from Maschinenfest's speakers just as easily as Berghain's. The stuttering rhythms of "Let the Soul Chase the Sorrows" hit like a classic Winterkälte groove, set atop icy pads and feedback. The less aggressive yet still twisting psychedelia of closing tracks "I Shared A Whiskey With A Ghost" and "The Inner Flame" suggests Izsoloscope.
This isn't to say that the record is an exercise in recreationism for its own sake. "Le Crime par la Pensée" has lift and bounce on its kicks which feel very of the moment, and add some scope and grandeur to the martial yet swaggering arrangement. The near-nine minute "Under Pressure" begins with a straightforward kick right in the modern dark techno pocket, before beginning to mutate into a funkier and more neurotic beast with some pinchy programming and bit-crushed noise.
Chalandon's work in Imperial Black Unit has done an admirable job of nodding to the roots of electro-industrial while pursuing the new sound of Berlin (something "A True Terror Corporation" also does here), and Myths And Consequences similarly doesn't feel beholden to purism of any stripe. A "we're not so different, you and I" bridge across generations and sub-genres, it's a solid record which reminds one of the enduring appeal of this brand of pummeling rhythm.