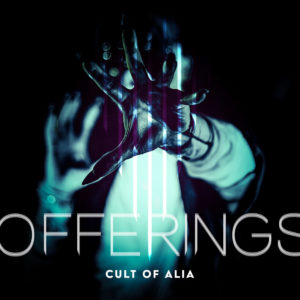 Cult of Alia
Offerings
Cold Transmission Music
Cult of Alia is the solo project of David Wright of California post-punk act Creux Lies, offering a more electronic take on the melodic darkwave that is that band's stock in trade. Preceded by the excellent mid-tempo number "The Only Angel" and an exceptional remix of Twin Tribes' "Perdidos", Offerings comes out of the gate strong with hummable melodies and plenty of dark alternative dancefloor potential. Opener "A Voice Inside" and it's immediate follow-up "Split Seconds" exemplify Wright's approach, using danceable but not overly complicated rhythm programming as a vehicle for hooks which are built on with additional layers of synth and vocals. That those songs have distinctly different moods shows some of Wright's arrangement chops, keeping the former at a slow, moody boil and allowing the latter to rise up emotionally towards a bright chorus. While there are more rock oriented moments on the release – see the bass guitar like motor that pushes "Body Flow" – Wright keeps focus firmly on electronics, but without dipping into the fashionable electro style; "The Message" specifically feels more like a dark synthpop ballad of the kind IAMX do so well than it does, say, Boy Harsher. Solidly written and performed stuff that ticks a lot of boxes beyond its immediate club appeal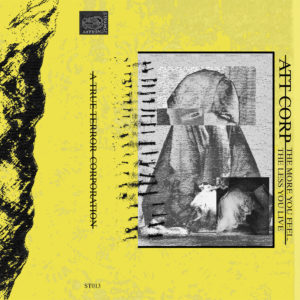 ATT Corp
The More You Feel, The Less You Live
Strange Therapy
Fresh off an impressive homage to classic powernoise, Thomas Chalandon (Area Z, Imperial Black Unit) has yet another project making its full-length debut. ATT Corp (A True Terror Corporation), a collaboration with Arthur Bdt, hits an equilibrium between pure industrial grind and noise, and just enough harmony, space, and atmosphere to frame the former. Chalandon and Bdt credit plenty of early pioneers and experimentalists in copy and interviews (Test Dept., SPK, etc.) and there's definitely something of the first wave of industrial and subsequent power electronics in the sludge of "Haewusu" and overheated feedback of "Okinawa Caves". But there's no slavish homage to a particular label, act, or even era on The More You Feel. "Nanga Parbat" buttresses fuzzy, lo-fi guitar noodling against razor-sharp, ultra-modern shuddering beats, while "Erta Ale" slathers techno kicks of a plethora of timbres and provenances over sampled chant. Elsewhere, the industrial aggression and clamour is left to the side, as on "Ankor Wat"'s scrambling of atonal acoustic guitar amidst drones and wheezes. Mean stuff to be sure, but with plenty of art and thought as well.