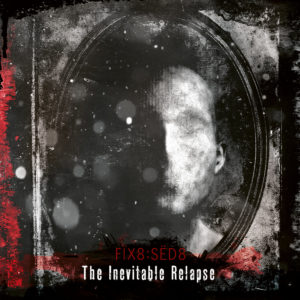 Fïx8:Sëd8
The Inevitable Relapse
Dependent
Fïx8:Sëd8's fifth album is something of a stylistic consolidation for the one-man German project helmed by Martin Sane. While the band has been exploring a rich mixture of post-industrial and dark electro for the better part of the last fifteen years, The Inevitable Relapse is founded on a rich production sensibility that suits its atmospheric compositions, reminding the listener of both classic records in the style by Mentallo & the Fixer, and contemporary acts exploring the same sensibility, like Dead When I Found Her.
While the LP's compositions are varied and often complex, the basic stylistic markers are easy to identify; songs are composed of bouncy analogue basslines, vocal samples, layers of overlapping pads and crunchy drums. The playbook is well-established, and yields a host of fine deep genre tunes, especially the opening stretch of the album which explores the atmospheric ("Enigma", "Human Harvest") and more propulsive sides of the style ("Unknown to Virtue", "Prognosis"). The programming is rock solid, but it's Sane's arrangement chops that make the biggest impression, with his breakdowns and subtle shifts in structure matching creating additional complexity that teases and intrigues the ear.
The long and winding construction of these tracks is certainly part of their appeal, although there are moments where one wishes we got to hear certain ideas expanded upon further. The relatively minimal opening segments of record closer "Metabolite" invokes dreamy psychedelia and hard-edged electro-industrial before transitioning to moody instrumental synth for its latter half, leaving you wondering whether a whole track could have been spun from each of the component parts. It's probably not a coincidence that one of the album's most memorable moments is "Tremors"; both for the excellent guest spot from Black Nail Cabaret's Emese Arvai-Illes who stands in for Sane's workmanlike processed vocalizations and for the emphasis on its central melody and theme, which still allows for numerous builds and variations throughout.
In listening to The Inevitable Relapse you can hear exactly how Fïx8:Sëd8 have managed to accumulate something of a cult following at a time when their particular brand of industrial is more niche. By bridging the more complex aspects of his approach with a clean, crisp production sensibility and mix, Martin Sane has put his best qualities as a producer out in front, unobscured for genre purists and casual followers alike.