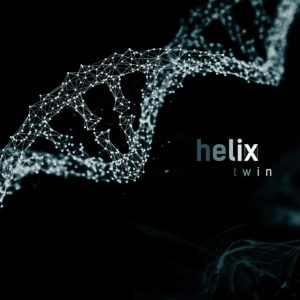 Helix
Twin
Metropolis Records
Mari Kattman and Assemblage 23's Tom Shear have already colaborated on numerous occasions, including tracks by Shear's Surveillance project in 2014, and a few other scattered remixes and one-offs. Twin is the first LP from their new project Helix and finds the duo exploring a number of musical ideas, some expected and a few further afield from the sounds each artist is already well known for.
Maybe the best thing about the record is the actual variety in terms of the style and delivery of each song. Opener "Widescreen" is perhaps a bit of a feint: its slower, world-electronica-a-la-contemporary-Delerium vibe is the sort of thing you might expect an accomplished vocalist like Kattman and a producer like Shear to do together. That the song is immediately followed by "Anymore", a number that recalls anthemic mid-2000s gothy alt-rock in the vein of The Birthday Massacre, and then a smooth melodic club bid in the form of "Bird of Prey" (the closest the record gets to A23's established musical niche) is a good indicator of the broad range of ideas Helix are working with. There are even unexpected references to Burial's halting breaks and pitched up samples on "We Are" and jacked up electro-house on "Live In My Heart" (which bears a distracting similarity to the A-Trak remix of The Yeah Yeah Yeah's "Heads Will Roll").
All those change-ups throw the strengths of each member of Helix into sharp relief. Where Assemblage 23 is such an institution as a peformer and artist, it can be easy to lose sight of just how skilled Shear is as a producer. The sound of Twin is universally lush and polished, with tasteful sound design that compliments each stylistic excursion. Kattman for her part sounds like a total pro, switching between playful upbeat delivery, gentle sensuality and restrained diva-isms – check out electro-pop ditty "Like a Drug" to hear her try on all three. The creative chemistry between them is palpable, and carries the album through its minor lulls, including the strangely sedate duet "I Might Be Wrong", the record's sole vocal appearance by Shear.
Twin ends up being a strong effort in a few important ways, marrying some memorable choruses and melodies with solid studio-craft and performances. It could probably have had a few more hooks for maximum appeal; some songs are simply more memorable for the style they're rendered in than for the songwriting. Still, it's never anything less than pleasant to listen to, and Helix come across as a real collaboration rather than a novelty one-off. It'll be interesting to hear where they take things in their follow-up offerings.