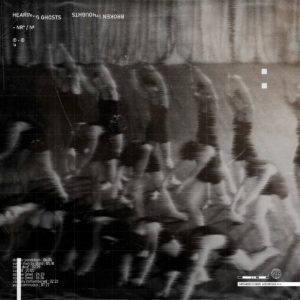 Broken Thoughts
Hearing Ghosts
Merrie Records
Musical time, reference, and structure work in strange ways in Broken Thoughts' music. Previous LP Realign worked to uncannily hone each track precisely to five minutes. Hearing Ghosts affords Keju Luo's compositions as much time and space as is needed to work their way into the burrows of the listener's mind, but its source material still connotes an eerie manipulation of time, now on a larger scale. On Hearing Ghosts, Luo conjures the spectres of recordings and styles long since abandoned, putting it very much of a piece with the hauntology movement. The insufficient elevator pitch for Hearing Ghosts might consist of "submerged industrial and glitch beats plus warped and crackling samples", but that leaves out the range of moods Luo's sources yield, and the tension between form and apparent chaos which runs through the record.
With a background in cinematic soundtracks and pure sound design, it's to be understood that Luo's likely to eschew common song structures, and perhaps doubly so when he's composing his tracks around samples likely completely divorced from their original key or time signature. This doesn't mean that Hearing Ghosts is wholly free of recognizable markers, though. There's the chamber orchestra goes doom jazz vibe of "Every Man Be Blind", and something that could at least pass for a "traditional" downtempo track in "Past Continuous".
However, even once a suite of sounds or modes is set up, Luo isn't content to just let them sit. They shift and mutate, and as they do one loses track of a piece's origins as it drifts, seemingly guided by the samples' titular ghosts rather than artistic intention. The terse, sober string passages of "Sparse (Two)" are slowly overcome by more sentimental, loping pitched-down strings which struggle to surmount beats, akin to some old doo-wop or Tin Pan Alley record winding down to nothing on a dying phonograph in an abandoned attic. If that sort of description sounds a bit florid, well, Hearing Ghosts is a record that comes by that sort of excess honestly, setting up lush and evocative soundscapes, and then giving the listener all the time in the world to dream up a context for them.
Luo clearly remains an omnivorous listener, processor, and theorist of art music, soundtracks, and industrial/electronic experimentalism. In Hearing Thoughts the canny listener might find the wistful ambiance of recent Jean Marc Lederman, Ulver's forays into string arrangements, or the cozy cosmopolitanism of ProtoU. But it's the theory, if not the exact sound, behind the Boström siblings' work as Hymnambulae which seems the closest comparison I can find to this record. Like those pieces, Hearing Ghosts is dedicated to unearthing sounds from ages long past, now utterly stained and transformed by time. But rather than indulging in nostalgia, trying to 'solve' the riddles or exorcise the ghosts of the past, Broken Thoughts cedes control to the sounds themselves. Their message may be indecipherable, but their effect is fully felt.