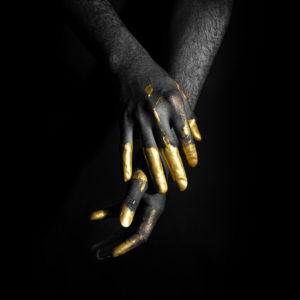 None Of Your Concern
Primer
self-released
More than an EP, not quite an LP, the short-form debut of Chicago's None Of Your Concern offers an impressive snapshot of the group's current sounds and themes. While mostly anonymous, the masked duo recently reflected on having to "hold it in" on charity single "Oppression", referring to the frustrations of queer and black survival strategies amidst the ongoing nightmare. While nothing on Primer is as noisy or blunt as "Oppression", there are bold and dramatic moves made across these seven tracks, and often the intimation of disturbing presences or phenomena obscured in the corners of tracks.
None Of Your Concern combines post-witch house and drag production with broader darkwave sounds and moods. While on paper that sounds like the same sound dug out by the sorely missed Prosymna, the differences in execution could not be greater. Rather than drifting through gothic ruins, None Of Your Concern hone in on tightly wound arrangements, using synths and atmospheres to rapidly pull the listener through woozy, but ultimately charming and danceable tracks. The detuned vocals on "Club Kids" or the submerged laser blasts of "Maitland" might be disturbing on their own, but they're cannily welded to mix-filling kicks and plenty of fun-house production and instrumentation quirks which entrance and beguile.
Tunes like those do a great bit of sleight-of-hand in hinting at heavy thematics without becoming ponderous or cumbersome. But for every moment like those, there's something the minutely crafted slow-burn of "Cinnamon". Guided by a wet darkwave bounce and elegantly crooned vocal, the smoothness of "Cinnamon" is slightly abraded with some guitar squalls, but there's no wasted movement, and the full sensuality of the track is packed into every second. That sort of instinct for balance is one of Primer's key strengths: the kosmische extravagance of the bubbling arpeggios of "Ginc" is again kept rooted via dead simple but weighty kicks.
It's a brief bit of work upon which to judge a band, but I'd guess that Primer doesn't speak to the full range of sounds and themes we're likely to get from None Of Your Concern. The songcraft and production on display hint at folks with no small amount of previous experience and, as mentioned above, "Oppression" points to an interest in rendering the intersections of the personal and political. Definitely a band to watch for in the future, but also one with plenty to offer in the short term. Recommended.