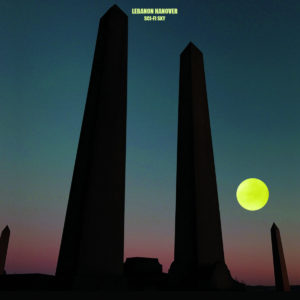 Lebanon Hanover
Sci-Fi Sky
Fabrika Records
Lebanon Hanover have always walked a line in terms of genres, indulging in both the richness of darkwave and the austerity of minimal wave as their whims dictated. Larissa Georgiou and William Maybelline's sixth LP Sci-Fi Sky isn't a departure from that template, although it's by far their most plentiful record sonically, with much of the temperance of their previous releases subsumed within velvety, potent indulgence.
Indeed, the rough-edged synths, thudding kicks and waves of distortion that introduce opening track "Living on the Edge" set the track up is already classic darkwave well before the bassline and Larissa's deep and measured vocals enter the mix. "Garden Gnome" digs deeply into electric bass and alternately delayed and fuzzed out guitar that bring to mind any number of classic goth rock acts, albeit with some measured breakdowns that recall their more restrained compositions. Heck, they even take a well-aimed kick at the ethereal on the strummy "Angel Face", a song that could easily have appeared on any number of '90s Projekt Records releases.
That the duo can touch on so many different styles of song within their latest musical remit is also one of the LP's most notable characteristics. I have hard time imagining them recording the dirgey and chaotic "Digital Ocean" at any other point in their career; Maybelline has an emphatic and rhythmic delivery on the track that recalls his recent solo work in industrial project Qual, albeit with a more dramatic tone to suit the song's gothic leanings. Equally unexpected is the layered approach of closer "Come Kali Come" where clanging percussion and layers of synths, guitar, and vocals grow to an outsized conclusion. It's simply a much bigger song than their catalogue has normally allowed for, both in scope and raw sentiment.
Even those who have closely tracked Lebanon Hanover's development as a project might not anticipating the comparative excess and grandeur of Sci-Fi Sky. Without completely forgoing the sonic markers of their celebrated catalogue, Maybelline and Georgiou have emerged into a much larger musical sphere. Sometimes intoxicating, sometimes even hair-raising, it's a not-in-Kansas-anymore moment in a well-established act's musical evolution.