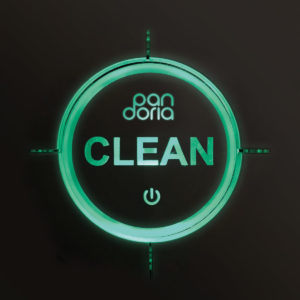 Pandoria
Clean
Infected Recordings
We've discussed the pros and cons of traditionalist EBM plenty of times on this site and on the podcast. As much as we want innovation and don't want to stifle creativity for the sake of glorifying an era and sound which may not even have existed as it's now being reified, every now and again we're in the mood for straight up, throwback EBM. When we got word that Steven Tesch of Paranoid (yes, the Paranoid we're on record as saying were "the most EBM looking band that ever existed") and Martin Bodewell of Orange Sector had a new collaborative record out, we assumed that weighty, old-school EBM befitting both men's main acts would be the result. 
Roots EBM certainly makes up the foundation of Clean – play the first ten seconds of just about any track on the record and you're likely to be greeted with a no-frills syncopated bassline and kick pattern – but that's not what ultimately carries the record forward. Time and again it's the hooky melodies lifted from synthpop new and old which takes center stage, like the plinky metallic lead which pings through "Chain Around My Heart", adding a lithe sense of fun to the mid-tempo EBM rhythms. If that sounds on paper to be quite similar to Spark!'s Hela Din Värld (or perhaps the last Restricted Area record), you wouldn't be wrong, but Tesch often takes on vocal melodies with a sober sincerity that keeps things from ever feeling flip. The swooping croon on the chorus of single "Crush" ends up guiding the whole track, with Pandoria channeling Depeche Mode far more than DAF.
As if that focus on melody wasn't enough to give Pandoria some distinction as a new entity, the lyrical focus on love (and often from a distinctly mature perspective) gives Clean a nice through-line. Infatuation, heartache, and romantic indecision are all touched upon, and often with a sentimental delivery that's a far cry from Paranoid's far more, well, direct early work ("I Dominate You", "Red Light / Sucking Lips"). Tesch weighing the prizes and perils of love and marriage amidst middle age ends up being an ideal complement to the romantic lilt of the tunes themselves. An enjoyable record of smooth, nostalgic, loverman EBM wasn't on our bingo card for 2020, but we're happy to have it.