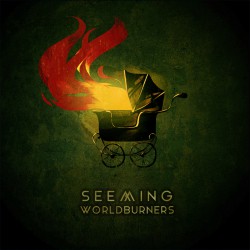 Seeming
Worldburners EP
Artoffact Records
It's incredibly difficult to explain Seeming to someone who isn't already acquainted with Alex Reed and Aaron Fuleki's omnivorous musical project. The loyalist who have been following them since the dissolution of their darkwave project Thoushaltnot are likely to talk about Reed's lyrics and vocal delivery, or maybe the duo's sly pastiche of tropes from countless genres. Still, even an extensive discussion of those ideas won't really capture what the band have already done, and likely won't give much of a roadmap for their latest release, the meaty Worldburners EP.
Between the six new songs, alternate versions remixes and the odd demo and cover song, there's a staggering amount of new music here to parse, although the placement of the original material at the beginning certainly helps the listener get acclimated. While they're as varied as anything on the project's astonishing debut album Madness & Extinction, these new songs stand as some of the most accessible Fuleki and Reed have produced, bouncing purposefully from tumbling, propulsive electronics and percussion on "Worldburner's Unite (Pandemic mix)" to the folky "Give Yourself to Fire" and the lovely piano-led "Holy Fire".
As always, it's Reed's very specific style of poetry that helps thread these numbers together, delivering florid couplets like "See the tower through the trees / Give way to smoky memories" with total commitment. Worldburners's concern with fire manifests in a number of differing narratives here, from the idea of flame as forbidden Promethean knowledge through to the strangely touching account of an arsonist driven by the desire to meet a firefighter who saved them with CPR on "Light a Fire". It's almost impossible to convey just how well this stuff works in context, but that's a distinct part of Seeming's charm; they never show a trace of irony or detachment from their songs, and their investment makes it incredibly easy for the listener to buy in.
Interestingly, Seeming show a wider range of moods and emotion here than they have at any point in the past. The most obvious example is the gutting bombast of "My Body is Always Screaming", where Reed's controlled delivery breaks down into a gasping, desperate yell, ever in danger of being buried by Fuleki's machine-rhythm drumming. Elsewhere Reed dives deep into a sort of dispassionate trance on a cover of MC 900 Ft Jesus' "The City Sleeps", and reinvents Madness & Extinction's "Eyes of Extinction" and "Goodnight London" as trance-inflected futurepop and halting drum-infused synthpop respectively. Even the remixes by I, Parasite, Andrew Sega, ∆AIMON and others seem selected to bridge Seeming into stylistic worlds they have yet to enter themselves. Where this kind of variety is often alienating, Reed and Fuleki train the listener to expect change and exploration, often in the course of a single song. Once you've given yourself over to the idea of music that's post-everything, you can accept it being pretty much anything, and Seeming take full advantage. Recommended.