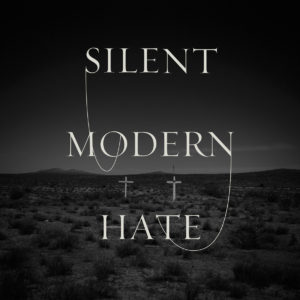 Silent
Modern Hate
Three One G
That Mexican deathrock band Silent have emerged via Justin Pearson's Three One G label feels rather fitting. Nearly twenty years ago, the label was one of a small number which released a spate of records from post-hardcore bands who hybridized their already spastic noise with goth shadings. While perhaps overshadowed by the more fashion-focused deathrock revival acts of the same age, 31G releases by the likes of Love Life, Camera Obscura, and Antioch Arrow are proper precedents for the wave of more substantive dark punk we're enjoying now, and the muscular and bellicose Modern Hate is a strong entry in that movement.
More weighty, stately, and bass-heavy than preceding LP A Century Of Abuse, Modern Hate has just enough polish and atmosphere to match the mid-tempo churn which drives the majority of its nine tracks forward. Riffs are lurching, swooping in and out of the fore and underscoring the unease and chaos Silent investigate. While the tightness of the band generally plays well in giving "A New Slave" and "The Witness" a thudding, stony unity, Silent can also spread things out to good effect, as on penultimate pick-slide epic "Empty Spaces" which carries the spirit of Amebix's most ambitious works.
Most of Modern Hate is founded upon a constantly ramping tension, with cathartic breakdowns few and far between. It's nervous music for a nervous age, as one could gather just from a glace at the titles: "It Follows", "Death Is Not An Option", "Trust No God". With a political radicalism both rooted in peace-punk's origins and fueled by recent events, Silent certainly aren't shocked by the horrors they point to, but that doesn't lessen the import of the crises. When vocalist Jung Sing calls god out for being a derelict slumlord – "Why don't you come down here and fix this mess" – it's as much with a sense of quotidian disappointment as with the sort of grandiose indignation the occasion might seem to merit.
Much like last year's excellent Living For Nothing by Horror Vacui, Modern Hate elevates deathrock's core musical elements to a level which matches the heft of its themes, abandoning the more cartoonish elements of the genre. Between climate collapse, racial injustice, and obscene disparities of wealth, the real world holds more than enough horror without falling back on monster flick cliche, and it's great to hear bands like Silent taking up those issues with a sound which befits them.