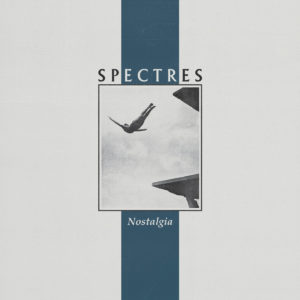 Spectres
Nostalgia
Artoffact
Nostalgia may come as a bracing change of sound and delivery for those who've been tracking the work of Vancouver peace punk act Spectres solely through their recorded material. While the rollicking and angry-blooded post-punk of 2010's Last Days had been keenly focused by 2016's Utopia, with a combination of fortified instrumentation and a willingness to quiet things down when need be, the separation between that latter record and Nostalgia is far wider…unless you've been tracking the band live. Bit by bit over the last five years, the songs that make up Nostalgia have been woven into Spectres' sets, yielding a near-total transition of the band into heralds of chiming new wave anthems.
By the time the strum-and-jangle of second track "Dreams" takes hold with charming ease and grace, it's apparent that Nostalgia isn't afraid to sound romantically vulnerable, and, perhaps as its title indicates, doesn't have any compunctions about clearly signaling its classic influences. Now, truth be told, the sorts of harmonic ambitions Nostalgia delivers on can be traced all the way back to the band's earliest days in tracks like "Romans". But Spectres' ability to follow through on those ambitions has been honed by years on the road and, I'd hazard to say, serious internal reflection regarding what they wanted the band to be. It's that combination of experience and wisdom which allows them to pull off some pretty clear homages with aplomb and dignity. Does "When Possessed Pray" sound a lot like "Age Of Consent"? Yep. Is there a direct lift of "Love Vigilantes"' melody on "Years Of Lead"? Most definitely. Am I complaining? Hell no.
While New Order is the most overt source of inspiration, plenty of other classic acts can be sniffed out of Nostalgia's perfumed bouquet. Although band's longstanding allegiances to The Comsat Angels and The Sound remain in check, janglier and dreamier sounds bring the likes of The Wake and The Shop Assistants to mind. While there's the solid bed of lead and rhythm guitar kicking off one another you'd want to bear that out, the record's focus hinges upon the newly modulated and downright pretty vocals of Brian Gustavson. While he's always been a formidable frontman with a bellow of a voice suited to the stormy invective of the band's early work, his transformation into a keen chanteur capable of lightly traipsing his way through "Dreams" and striking the right amount of controlled reflection on "The Call" is nothing short of stunning.
As mentioned off the top, this change in Spectres has been incrementally perceptible for those of us in Vancouver. But even having heard most of these tunes emerge one by one over the years Nostalgia is a formidable document which consolidates all of these new moods and sounds. For a band with clear loyalties to the past they've shown an impressive urge to grow and develop, and the rest of the world now gets to experience the payoff. Recommended.