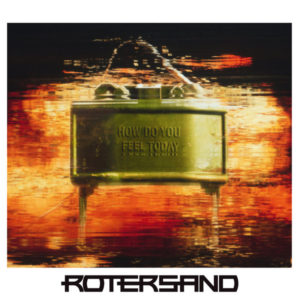 Rotersand
How Do You Feel Today
Metropolis Records/Trisol
German melodic EBM act Rotersand were one of the best scene acts to emerge from the early 2000s. Club hits like "Almost Violent", "Exterminate, Annihilate, Destroy" and "War on Error" were basically inescapable for the first decade of the millennium, tapping into the anthemic quality of the best futurepop with solid production and enough individual quirks to distinguish them. 2010-2020 were less notable years, as the health issues of singer Rascal impacted their ability to record and play live, with the serviceable but inessential Capitalism TM LP being the major document of the era. 2020 brings new LP How Do You Feel Today, a record that summarizes the best aspects of the band's approach to club music, as well as some of their less celebrated strengths.
Those seeking some of the classic Rotersand sound don't need to dig deep into the LP to find it. Sophomore track "You Know Nothing" hits that perfect mix of big, easily graspable melody – in this case achieved deliberately chintzy synth horns and orchestration – and big bouncing club beats. Even with Rascal doing the "They're Coming to Take Me Away" vocal cadence it's a song that's hard to dislike, an example of Rotersand's penchant for songs that feel big but don't use the most obvious route to get there. "Whatever" is a little more straightforward but just as immediate, with an insistent vocal hook and a comfortingly bright synth lead that seems familiar without seeming like a retread.
Still, Rotersand sound like they're trying out some new ideas and deliveries on How Do You Feel Today, and for my money those are the album's most interesting moments. Most notably, "Silence" is a mid-tempo electric rock number, with muted guitar and simple kick snare drums; it's a song that could just as easily have been arranged in a more traditionally electronic fashion but is more interesting for not having done so. Opener "Who Are We Now" establishes itself with Haujobb-esque synth washes and bubbly understated percussion before breaking out as a big electro banger, moody and banging by turns. The album's hands down best moment is the mid-tempo "Hot Ashes", a track that revolves around the mantra-like repetition of "Dancing on the hearts of fascists/Dancing on hot ashes" and a thick and tweaky bassline that nods to Gessafelstein. They're good songs individually, with each offering an angle on Rotersand we haven't necessarily had before.
The record isn't all gold – the cover of Blancmange's "Blind Vision" feels unnecessary and "I Feel, You Don't" and "Elements" feel like retreads of older tracks from the band's own discography – but by and large it shows off a lot of what people like about Rotersand. They've always been a much more varied band in terms of musical pallette than they get credit for, and it's really pleasing to hear them lean into that here. To call the album a return to form is perhaps a bit backhanded, so suffice to say that How Do You Feel Today is a characteristic and entertaining album from Rotersand with a goodly amount of charm and variety.