This is the first of a pair of Observer pieces we'll be using in order to do some year-end house-cleaning. Before we dive headfirst into our Year End coverage, we wanted to make sure we spoke to a few releases which slipped through the cracks at various points this year. We're offering up capsule reviews of four such releases today, with four more to come tomorrow.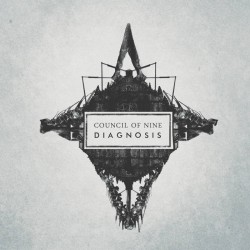 Council Of Nine
Diagnosis
Cryo Chamber
Maximillian Oliver arrived on the dark ambient scene as a fully confident producer in 2015 with next to no fanfare or previous releases apart from a couple of compilation tracks in 2014. His excellent first LP, Dakhma, matched up well with the accomplished and otherworldly tone normally associated with the Cryo Chamber label, but at times pointed to an earthier and more personally reflective side. Sophomore LP Diagnosis, released just seven months after its predecessor, capitalizes on that tendency even as it hits the markers which should please die-hard dark ambient fans. Diagnosis' song titles point to introspection and self-analysis, bringing to the fore the personal and subjective side of Council of Nine's sound hinted at on Dakhma, a rarity in a genre which often focuses on the cosmic sublime and the dwarfing or dissolution of the self. Pieces like "Riddled With Guilt" incorporate rumbles, gurgles, and scrapes which feel just as much the product of inner turmoil as they might the larger operations of celestial bodies. Even this split between the personal and the impassive is further complicated by slight but evocative changes in mood at a few key point on Diagnosis. Warm, if faint, piano tones begin to guide the listener through "Memories Are Fading Away", carrying them into an expansive cathedral of pads, and for just a moment, there's nothing "dark" about this record at all. Council Of Nine hasn't just arrived in 2015, it's a project which has begun to grow.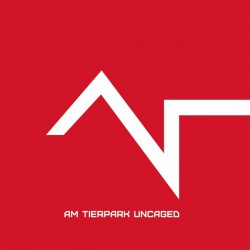 AM Tierpark
Uncaged
Distortion Productions
Claus Larsen's never made a secret of how foundational synthpop was and remains for him. From its earliest demos to the One Nine Eight Two release which accompanied Civil Disobedience to its recent covers of the likes of Depeche Mode and Yaz, Leaether Strip's always been willing to lighten up a bit and exchange the dark electro for classic synthpop. Teaming up with John Mirland (of Danish electro duo Holm/Mirland) for a fully devoted synthpop side-project seems like an endeavor so firmly in Larsen's wheelhouse it's something of a wonder he hasn't attempted it previously.
Uncaged's compositions are, for the most part, stripped-down affairs (sorry) which focus more on the shape and sound of synth tones (pointed to by the square/triangle wave cover art) than complex or overwrought arrangements. Whether on the sunny "The World Will Smile At Me" or in the icy gurgles of "The First Stone", the sounds curated and sculpted for Uncaged conjure moods and bounce along with excellent economy (although the strict adherence to mid-tempo numbers begins to wear thin a bit over fifteen tracks). More than anything, AM Tierpark deserves attention for the vocal performance Larsen delivers throughout. While he's been growing more and more confident as a vocalist in the past decade, leaving his voice unaltered on Leaether Strip releases, he's doing much of the heavy lifting on Uncaged, bringing able enough compositions to life with rich and soulful deliveries which reflect not just a deep love for synthpop, but a nuanced understanding of how much the genre depends on vocals. Longtime Leaether Strip fans will have a hard time listening to "Not That Kinda Guy" and "Walk This Earth" without cracking a grin at how flat-out happy Larsen sounds frolicking in the synthpop playground.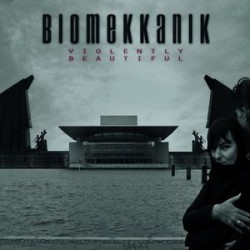 Biomekkanik
Violently Beautiful
Danse Macabre
Biomekkanik is the project of Christer Hermodsson, most well-known as a member Swedish sci-fi synthpop act S.P.O.C.K., and more recently as the new vocalist for oddball EBM outfit Spark!. The project's sophomore album Violently Beautiful is a far cry from either act however, relying on a fusion of guitar and bouncy electronics with Hermodsson's rock-inflected vocal delivery way out in front. It's pretty much a straight electro-rock record, albeit one with a few production and songwriting tics to lend it some flavour of its own.
The general tone of the album's 10 songs favours the melodramatic, with emphasis on soaring melodies and theatrical delivery. While production and songwriting are competent throughout, the record sounds best when it indulges in the occasional burst of weirdness, as on the And One-esque diversion "Democracy" or the clanging metal versus falsetto arrangement on "Leather and Steel". "Kamikaze Playboy" and opener "Monumental Me" play things a bit closer to type, but find effective ways to convey playfulness and aggression through their staccato programming and guitar licks. When the tempo slows and the mood grows more somber as on the title track and "Long Forgotten Future" Biomekkanik loses the plot, lacking the energy to rise above sufficient and occasionally dipping into eye-roll territory (see "Melancholy Friend").
Subtracting the drags on its momentum, it's a reasonably good listen with a gem or two tucked away. "White World" especially feels like a high point, one of the moments when Hermodsson's delivery and the mix of thumping 4/4 drums and riffs feels just arch enough, a proof of concept for Biokmekkanik's approach.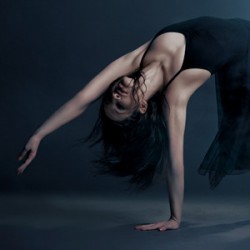 The Harrow
Silhouettes
[aufnahme + wiedergabe]
Post-Punk is poisoned as musical wells go: far too many acts ape the moves of the genre's progenitors without embracing their experimentalism or eccentricity. Brooklyn's The Harrow manage to avoid that pitfall by going deeper and further afield on Silhouettes, jamming healthy doses of dreampop and darkwave into their bass driven chorus-pedal workouts. The oddball drum programming and chiming reverbed guitar of "Secret Language" and the Projekt-esque "Love Like Shadows" are the band at their best, with hazy texture and cutting vocals from singer Vanessa Irena. "Darling" gets even more idiosyncratic, a halting goth rock number bordered by twinkling and synths and a particularly sinister melody. Its a nice pivot from the band's default state of wistful and somber, a mood the band wears well but that drags them down on some of the albums lesser numbers ("Kaleidoscope", "When the Pendulum Swings"). Closer "White Nile" is particularly effective, transmuting sparseness into atmosphere by holding back from the release it seems desperate to provide. The Harrow have a lot to recommend them, but perhaps their best and most effective tool is their restraint, knowing exactly where and when to cinch up or loosen their approach for maximum results.