Nuovo Testamento
Exposure
Avant! Records
Italian-American darkwave supergroup Nuovo Testamento go hard on the rhythmic end of the genre on their debut release for Avant! Records. Made up of members of Terremoto, Horror Vacui and Sheer Mag amongst others, the sound of Exposure is propulsive and severe in roughly equal measures. Songs like the title track and "Gold" are driven by efficient, no-nonsense electronic percussion, with guitar and synhth pads providing tasteful melodic content. It's solidly executed from an instrumental standpoint, although the personality of the mini-album comes largely from Chelsey Crowley's vocals. Her matter of fact delivery plays equally well doing drawn out verses that hint subtly at longing ("Gold"), and with short sharp passages that convey aloofness. Closer "Love Alone" shows the band letting down some of their practiced austerity with pleasing results; Crowley pushes her voice a bit harder as snappy drum claps and more circular and hypnotic guitar crawl across the rhythm track. Given the pedigree of those involved in the group the specific sound of the release is to be expected, a solid genre outing from artists fully embedded within they style's borders.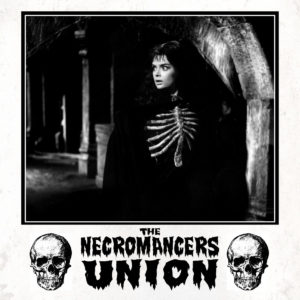 The Necromancer's Union
Ghosts
self-released
Daniel X Belasco's work as Glass Apple Bonzai has given him the opportunity to show off his talents in genres quite removed from the warm throwback synthpop which guides GAB, but if you've not heard the odd track Belasco's released as The Necromancer's Union in the past, this new EP'll likely come as a shock. Ghosts is an homage to the purest strains of goth rock, replete with nods to plenty of that style's subtler quirks and flourishes. Sure, Belasco lays his cards right on the table with the big second-wave pentatonic fretwork of the opening title track, but there's plenty more fun to be had: check the slight late-era Rozz intonation used on a handful of the lyrics of "Darkness", and the almost sea-faring lilt of "Pendulum", connoting the likes of Dronning Maud Land and The Prophetess. But you don't need to be a scholar of goth rock arcana to enjoy Ghosts; the ear for core tunes Belasco's always had is in effect, and his impressive vocals fit the material well (though the way he's able to vocally signal clear genre markers without jacking Eldritch might piss off some other goth rock recreationist vocalists). There's a little bit of GAB-styled synth thrown in on closing track "Crossing", possibly a peace offering to fans of Belasco's less dark and heavy sounds, but irrespective of genre there's still no mistaking Belasco's charisma and talents.