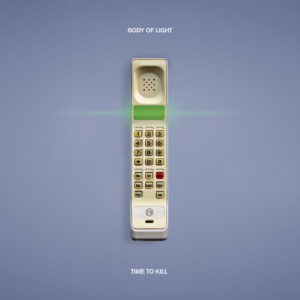 Body Of Light
Time To Kill
Dais Records
It's still strange to think of Body Of Light as a pure synthpop act, let alone such a smooth one. Although they've had a clear interest in yearning melodies going back to their first full length (2013's Volantà Di Amore) if not further, the lo-fi murk of their earliest singles and EPs, along with their associations with labels like Chondritic Sound and Ascetic House made it plausible to imagine the Jarson brothers as simply building synthpop edifices atop noisier and harsher foundations. That all changed with 2016's undeniable Let Me Go, a synthpop tour de force which found Body Of Light careening through all of the hedonistic pleasures the genre's history, both old and recent, could offer. With Time To Kill they've settled into one particular synthpop mode, and while they sound more sober and focused here, it's no less accomplished a record than its predecessor.
The lead title track quickly showcases which parts of Let Me Go's breakthrough remains, and what's been added to Body Of Lights's presentation. The synth hook is deceptively simple and catchy, but everything builds to Alexander Jarson's wounded but commanding vocals. Time and again Time To Kill's arrangements cede the floor to the vocals with preternatural timing and effect, and invariably Jarson drives the point home. Whether this is all the product of Matia Simovich's expert production or just Jarson finding a new set of inflections for his voice is beyond my ken, but for the first time in their career Body Of Light come across as ace songwriters rather than synth-savvy pastiche artists.
Despite a short run time, Time To Kill impresses by more or less sticking to a wary and soulful style without ever running out of ideas or hooks. The half apologia, half enticement of "Fear" has a classically seductive Masses-era Mode feel, but by pinning the tune to an even earlier house swing, Body Of Light find a cool new ease around the well-worn hyper-confessional synthpop motif. From Yaz to InSoc, music of this sort is often best when there's a naked vulnerability to it, and that's here in spades, whether in the sour angst of "Heart Of Shame" or in the reflective haze of "Stormy".
Body Of Light themselves have been hesitant to describe themselves as a synthpop act in the past, and there was certainly a risk in being pigeonholed in their earlier and noisier days. But whether by conscious choice or accidental organic growth, a record like Time To Kill speaks for itself: it's clear and focused synthpop through and through, and ranks with the best of today's field, whether the Jarsons will accept the plaudit or not. Recommended.