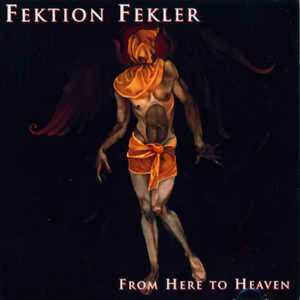 Fektion Fekler
From Here to Heaven
self-released
What Is It?
While never as high-profile as Pendragon Records label-mates like Haujobb, Velvet Acid Christ or Gridlock, Texas' Fektion Fekler put out two well-regarded LPs in the mid-to-late 90s. Brothers Robert and John Bustamante's take on electro-industrial had dancefloor appeal and a heavy emphasis on melody, shot through with a love of eclecticism that gave their material lasting appeal. While the brothers' later albums would dabble in integrating acoustic folk and rock music into their sound, 1996's excellent From Here to Heaven is a focused effort that still sounds remarkably fresh some 22 years since its release. The recent addition of the record to the group's Bandcamp has provided an easy opportunity to revisit an album that has a cult-following amongst rivetheads of a certain vintage.
What's On It?
Presented in its original form, the Bandcamp release of From Here to Heaven holds up very well in a large part due to the cleanliness of the mix and the track sequencing which highlights the different faces of the project. Vocal tracks like "Immortal Faith (PWN Mix)" and "Shakedown" balance rhythm programming with big melodic pads, distinctive timbral synth leads and distorted vocals. These aren't game-changers in terms of approach but are executed with a great attention to production and arrangement. If that's all Fektion Fekler had had to offer it would be a fine release, but what really sets it apart are its ambitions. Check out how "Solution Tragedy (Last Cigarette Mix)" and "Tragedy Solution (32oz Mix)" interpolate one another, or how the Bustamonte brothers integrate orchestral sound design to album highlight "Diabolic Changes (Side Effects mix)". Then there's the way that the organ-led "Topp Ramen (6 for a $1.00 Mix)" was starting to integrate the sounds of electronica before it was fashionable for industrial artists to do so – all examples of the kind of interesting choices the duo were making when they could have played things much safer. While they bear an occasional resemblance to like-minded industrialists Individual Totem or Mentallo & The Fixer, their take on electro-industrial feels distinct and exciting to this day.
Who Should Buy It?
From Here to Heaven is a record that really puts an exclamation point on one of the possibilities of the digital marketplace; without needing a label or distributor to pony up to reissue it, Fektion Fekler are able to make their minor classic LP available to audiences new and old. Those who didn't hear it when it came out and those who are always on the lookout for semi-obscure vintage releases in the style should make a point of adding it to their Bandcamp collections.