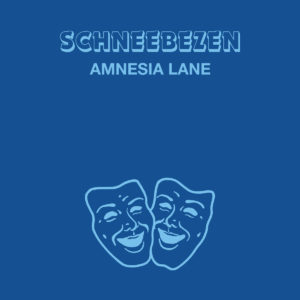 Schneebezen
Amnesia Lane
Mecanica
What is it?
Formed in the latter half of the 80s, the LA duo of Schneebezen were doomed to fall victim to the consigning of synthpop to the cultural dustbin with the breakthrough of "alternative" rock. Self-releasing just one demo tape and one EP while they were active, Bart Plaskoff and Glen Moller packed it in in 1990. Now, Mecanica (who've brought us excellent recent archival releases from The Force Dimension and Fatal Morgana) have released a massive 30-track compilation which recollects what was, points towards what could have been, and acts as a sprawling sketchpad of approaches to synthpop roughly ten years into the genre's history.
What's on it?
The entirety of the Take Those Shades Off EP starts the comp off, and while not all of the tracks from the demo are included, the entire tape can be downloaded from vocalist Plaskoff's site. Demos, outtakes, and alternate mixes make up the majority of Amnesia Lane, and while there's some novelty in hearing some of the differences across multiple takes of the same tune, it's really in the songs which were never afforded formal studio recording where Amnesia Lane justifies reaching far beyond just a reissue of Take Those Shades Off's six tracks.
At their best, the duo's style reaches the grand, romantic heights of anthem and melody that top-tier synthpop shoots for. Lead track "Magical Meeting Of The Minds" buoys its ambitious vocal punches with synth guitar and the most optimistic of shimmering pads, and the self-explanatory "Can't Remain A Friend" finds the right register for its broken heart on sleeve delivery. The hitherto unreleased material has a number of gems, too: "Remember All Those Things" grows from a muted arpeggio into a surprisingly sprawling epic jam-packed with melodies.
There are plenty of misfires amidst the rough demos, to be sure. Some attempts at slice of life and social commentary sound dated in the cold light of 2022, and a few of the demos fall back on too-similar instrumentation without big enough hooks to distinguish them. But even when the tracks themselves don't hold together, connecting the band's influences this late into synthpop's presence on the charts is fascinating stuff: a bit of fellow Angelenos Abecedarians here, perhaps a shake of Belgian coldwave taken from Parade Ground there. Mirroring that range of musical styles, Plaskoff tries on different vocal guises across the tracks. He often holds to an impassioned and swooping tenor, somewhere between Billy McKenzie and Andy McCluskey, but sometimes drifts beyond his core range and can't quite measure up to his ambition. Still, the fact that the majority of Amnesia Lane is made up of demos is instructive here – Schneebezen were a band just beginning to gel before their breakup: a hypothetical proper debut LP might have edited things down to a tighter package, not to mention been a blueprint for indie synthpop moving into the 90s.
Who should buy it?
Digging through Amnesia Lane will prove to be a field day for synthpop die-hards, who'll be able to fritter away hours spotting influences, and slotting all of the various demos and outtakes into the larger network of the genre just before it vanished from popular view. For more casual listeners the core original tracks have plenty of charm, and DJs with a synthpop-specific purview should be able to liberally cherry-pick.